Surf Waves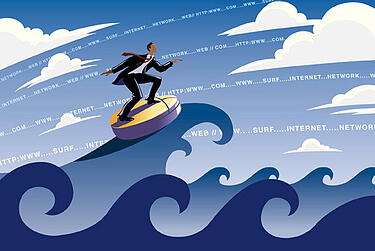 Anyone who has ever questioned the use of social media in the digital age need only look to Tourism Australia in order to understand its power.
This blog entry is part 4 of a mini-series that explores Tourism Australia's 5 core social media ideas and identifies what lessons can be learned from this amazing inbound marketing campaign.
Introduction: Tourism Australia Case Study

Create Platforms that Fans Can Build On

Make Fans the Heroes

Surf Waves

Make the Stories Social

Test and Learn
Surfing Waves – taking advantage of content momentum
When it comes to social media, it's all about relevancy and no one understands that more than Tourism Australia. That's why capitalizing on events, news stories and generally staying current is such a huge part of what the social media team there does.
They call it surfing waves, because, much like surfing, it's all about taking advantage of momentum. Yes, planning out your content with content calendars is important, and Tourism Australia certainly understands that too, but nothing can match the power of relevancy.
Riding BIG waves and SMALL waves
Riding waves lets Tourism Australia keep a strong "always on" approach to social media that keeps fans engaged 24/7.
Big waves: They even break it down into what they call big waves and small waves. Big waves are usually large-scale news stories that have caught the world's attention. For example, when the Mayan calendar came to an end on December 21st, 2012, Tourism Australia used Facebook to tell the world that "Yes, we're still alive." This resulted in 180,000 likes, 7,000 comments and a dedicated page with 4 million fans – a big wave to say the least.
Small waves: Not all waves are big ones though. Small waves usually don't make for front-page news around the world, but they still keep things current. Friday's "Fan Photos," for instance, gives fans a chance to check out 35 brand new featured fan photos from around Australia every Friday.
Watch as I explain, in Hong Kong, the importance of engaging with fans:
Learn more from my book
The Million Dollar Minute – The Secrets of how we sold 367 Condos in 90 Minutes, and how You can too!