5 Things to Know Before Using LinkedIn for Online Advertising
For years, LinkedIn has been a great outlet for job seekers and recruiters. While it still serves the same purpose today, LinkedIn has become a great source for online advertising for your business. Here's our list of the 5 things you need to know before using LinkedIn for online advertising.
1) LinkedIn is great for targeting the right demographic
Unlike other social media channels, LinkedIn allows marketers to target their ideal buyers based on their industry, job function and company size. This is extremely beneficial for B2B marketers.
2) Increased lead generation
While cost per click may be 5-10 times higher, conversion rates are also higher in comparison to other social media sites. According to the Content Marketing Institute's 2014 B2B Content Marketing Trends report, LinkedIn came in first place as the choice by North American B2B marketers for distributing content on social media.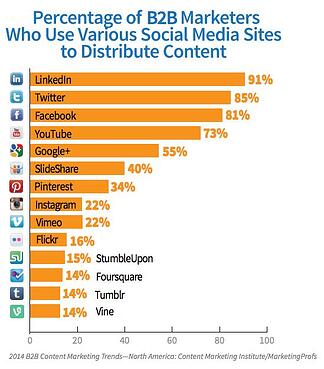 3) Mobile bounce rate
While your targeted audience may be clicking on your ads on their mobile devices, you will experience a lower rate of lead generation. Individuals are much less likely to fill out forms on your landing page than if they were on their computer, thus resulting in higher lead costs. This is a growing concern as more people are using their smartphones to access social media sites. However, you can improve your landing page's performance by optimizing it for mobile.
Watch N5R's Roman Bodnarchuk quickly explain why a mobile strategy is important for any company.
4) Direct Sponsored Content
Last summer LinkedIn released a new opportunity for marketers looking to create targeted online advertising. Without having to publish on your company page, you can reach your targeted audience directly through their feed.
5) Don't forget to follow up with your leads
As soon as someone fills in the form or downloads content from your ad, follow up with them within a few minutes and send a personalized thank you email. This will increase your lead's potential in becoming a customer.
LinkedIn is a great tool for marketers looking to perform targeted online advertising. Test it out alongside other channels and see which one generates the best leads and is most cost effective for your company.
Learn more about how digital marketing can help with lead generation by downloading our ebook: