What are you waiting for? You probably are already a master at using Facebook for personal reasons, now let us help you take advantage of using Facebook to promote and market your business. Below are step-by-step instructions on how to create your Business page on Facebook.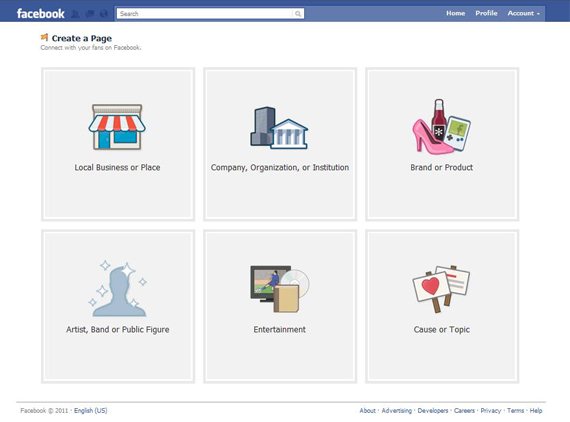 Step 1. Choose your Business Category
Go to www.facebook.com/pages and click "Create Page" on the top right corner. From here are you are asked to classify your business from 6 different categories:
1. Local business or place
2. Artist, band, or public figure
3. Company, organization, or institution
4. Entertainment
5. Brand or product
6. Cause of community
Once you have selected your business category fill out the form. *Note - once filled out you can not change once your page is created. You will have to delete page and start again.
Step 2. Fill Out Basic Information:
Here you will have the opportunity to upload an image. Ideally, your company logo. Once you have uploaded an image, Facebook will ask you to invite friends. At this time I would suggest unchecking the boxes that say "share this page on my wall" and "like this page". We will recheck these once your Business Page is complete and ready to promote. Next you will be asked to fill out other basic information such as:
Website URL
"About" section - I suggest a brief bio on your company, product or business model for example.
Step 3. Add More Information:
In this step you will have the opportunity to fine tune your page and add more detailed information. First click "Edit Info," and add any details that you feel is appropriate for your business. For example, if you are a local business, add your hours of operations and location. Here you can also add a description. A description is different from your "About" section in that you can add more information regarding your business. If you have more images, make sure you add more to your photo tabs.
Step 4. Use Facebook Features:
Facebook offers Business pages numerous features to promote your business and to engage with fans. Under your display picture click "Get Started" and following the easy steps to make the most out of your page. Start with these:
1. Invite your friends - easiest way to build your following
2. Tell your friends
3. Promote this page on your website - take advantage of integrated marketing
4. Post status updates - Engage with your fans. Be sure to participate in discussions
Step 5: Discover & Measure
You should now have a unique Facebook Business Page that accurately represents your company, brand or product. It is now time to discover new features, and engage with fans. Once you are comfortable with your new page it is time to see the pay off. Facebook offers intuitive analytics to track and measure your page. "Facebook Insights". Click "View Insights" tab on your page. Now you will be able to view: How many people have become fans "Liked" - review by day, week, month etc. Be sure to spend some time in this section for other tracking information.
Good luck and have some fun.