Can you guess? Here is a hint...It's not Twitter or Facebook!
Our partners at HubSpot conducted a study of over 5,000 businesses and found that traffic from LinkedIn generated "the highest visitor-to-lead conversion rate at 2.74%." This visitor-to-lead conversion rate is almost three times (277%) higher than both Twitter (.69%) and Facebook (.77%).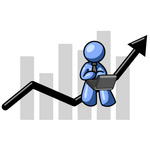 LinkedIn is such a powerful social network for businesses because people join to showcase their career, work expertise, and find content to make their professional lives better, according to HubSpot. Another reason why LinkedIn has a high visitor-to-lead conversation rate than other social networks is because of less clutter. People on LinkedIn post less often but with specific marketing-related content. As, opposed to sharing photos, web links, and videos.
If you are going to post marketing-related content it makes sense to use LinkedIn to grow your visitor-to-leads conversation rate.
To read the full article click here.