Part Three: NET WORTH
Last week we discussed the issues of Credit and Income & Debt Ratio when qualifying for a mortgage. Today we will discuss Net Worth.
The Net Worth factor is where a lender has an opportunity to evaluate a person(s) profile. Of course, net worth is positive if your possessions (assets) are greater than your debts (liabilities). The opposite is considered a negative net worth. Obviously, the lender is more likely to approve those with a positive profile.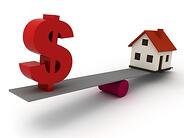 In many ways the best strategy is always to buy when you appear in control. For example, you may have an excellent income but you posses four credit cards, an auto loan, a personal line of credit and a student loan. You may be making all payments, but you "look" out of control. The debts may also incur a negative net worth because employment income is not considered an asset.
When trying to qualify for a mortgage, my advice is to seek out a professional mortgage broker, to discuss your situation before buying.
I hope this mini three part series on how to qualify for a mortgage was helpful.
Click here for Part 1 - Credit
Click here for Part 2 - Income & Debt Ratio