I just gave an insider point of view to the Toronto Sun and I thought you'd be interested in reading it before you go out condo shopping this weekend.

Scroll down for a text version of the article.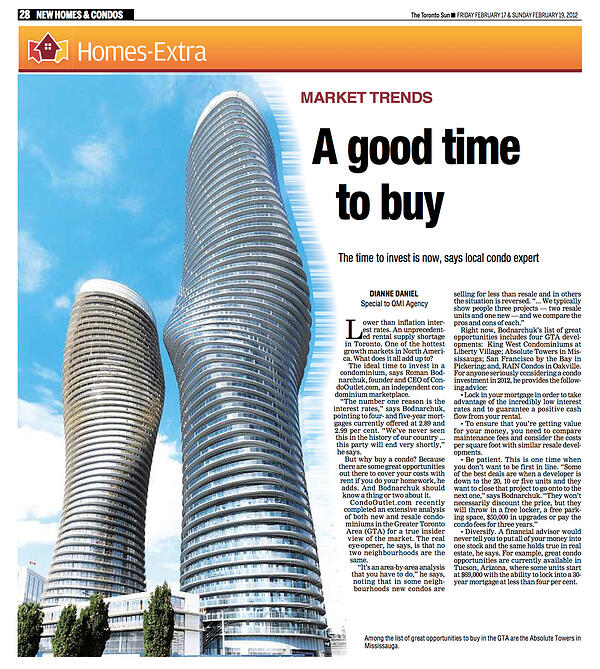 A good time to buy
Dianne Daniel

Lower than inflation interest rates. An unprecedented rental supply shortage in Toronto. One of the hottest growth markets in North America. What does it all add up to?
The ideal time invest in a condominium, says Roman Bodnarchuk, founder and CEO of CondoOutlet.com, an independent condominium marketplace.

"The number one reason is the interest rates," says Bodnarchuk, pointing to four- and five-year mortgages currently offered at 2.89 and 2.99 per cent. "We've never seen this in the history of our country… this party will end very shortly," he says.
But why buy a condo? Because there are some great opportunities out there to cover your costs with rent if you do your homework, he adds. And Bodnarchuk should know a thing or two about it.

CondoOutlet.com recently completed an extensive analysis of both new and resale condominiums in the Greater Toronto Area (GTA) for a true insider view of the market. The real eye-opener he says , is that no two neighbourhoods are the same.

"It's an area-by-area analysis that you have to do," he says, noting that in some neighbourhoods new condos are selling for less than resale and in others the situation is reversed. "…We typically show people three projects – two resale units and one new – and we compare the pro and cons of each."

Right now, Bodnarchuk's list of great opportunities includes four GTA developments: King West Condominiums at Liberty Village; Absolute Towers in Mississauga; San Francisco by the Bay in Pickering and, RAIN Condos in Oakville. For anyone seriously considering a condo investment in 2012, he provides the following advice:
-Lock into your mortgage in order to take advantage of the incredibly low interest rates and to guarantee a positive flow from your rental.

-To ensure that you're getting value for your money, you need to compare maintenance fees and consider the costs per square foot with similar resale developments.

-Be patient. This is the one time when you don't want to be the first in line. "Some of the best deals are when a developer is down to the 20, 10 or five units they want to close that project to go onto the next one," says Bodnarchuk. "They wont necessarily discount the price, but they will throw in a free locker, a free parking space, $50,000 in upgrades or pay the condo fees for three years."

-Diversify. A financial advisor would never tell you to put all of your money into one stock and the same holds true in real estate, he says. For example, great condo opportunities are currently available in Tucson, Arizona, where some units start at $69,000 with the ability to lock into a 30-year mortgage at less than four per cent.