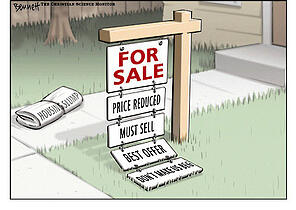 A lot is being made of the housing and condo market slowdown in Toronto and the rest of Canada. You should not, however, expect a US style meltdown.
Some of Canada's leading economists are offering reasons to be positive about the situation. Which is news in itself, because these are economists, not usually positive people.
Here are five interesting facts from Benjamin Tal:
Canada's debt-to-income level is not rising at the pace of many other countries; it's at half the pace of pre-crash USA. The pace at which that ratio rises can be more indicative than the ratio itself.
The quality of mortgages in Canada is much better. This is determined by the credit scores of the borrowers.
In Canada, only 15 to 20 percent of new mortgages have less than 15% equity, and virtually none are in the negative position. In the US, by 2005 and 2006, one third of mortgages were in negative equity positions before prices dropped; at least half had less than 5% equity, making that market more vulnerable.
Canadian borrowers are beginning to prefer fixed-rate over variable-rate mortgages. This is opposite to what happened in the US, where people preferred and kept with an adjustable rate mortgage overall.
Prices in Canada will fall, but it will be a soft landing due to higher quality mortgages and lower levels of speculation.
Prices that fall, but not drastically, represent an opportunity for savvy investors. There is far more money to be made when going from the bottom of a dip to a recovery than the other way around.