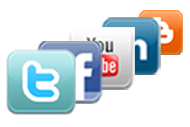 It's not challenging to find marketing automation tools for Twitter, but what about sales applications? It's good to have some sales use for this tool beyond engaging with clients.
Fortunately, Twitter is not just about marketing to and rounding up the most followers. Some of those followers can become key sales leads.
5 Ways To Find Twitter Leads
Research who your clients are and how they use Twitter; what are they talking about?
Take your existing prospect list and search for them on Twitter.
Search Twitter for relevant Keywords to discover new prospects.
Implement new Twitter Lists for easy organization and tracking of potential clients.
HubSpot automatically searches for all of your clients on Twitter for easy lead conversion.
Social media marketing and sales automation can be fruitful but time consuming. It can take a great deal of research to do it properly. Fortunately, it happens that N5R offers a free social media evaluation. Just click to register and we will give you some advice on how to get the most out of Twitter.