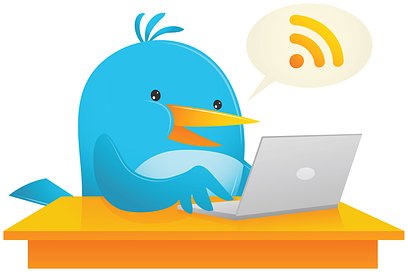 A recent study conducted by VerticalResponse tracked the very real results of how small businesses are managing their time and money when it comes to social media. The content tracks how much businesses are spending on social media and even probes what social media services and activities are eating up small business owners' time. Ultimately the survey found that small businesses are spending more time on social media, but struggling with the workload, and that there is an apparent value for small businesses to pay for social media tools. Below are the top 6 ways in which small businesses are using social media.
Time is money – 43% of small businesses report spending upwards of 6 hours or more on social media each week! This number is staggering and means nearly half the number of businesses out there are spending at least one hour a day delivering their message to crowds through social media. If you're not capitalizing on social media marketing and social selling, your competition might be.
Owner Involvement – Of the same number of businesses that report social media use, 86% of CEO's/business owners spend anywhere from 1-10 of those hours contributing to their social media directly. While the majority of these CEOs spend only between 1-5 hours directly with their social media marketing, 1/3 of CEOs/small business owners want to spend less time on social media.
Social Media Spending On The Rise – Social media is not a fad and continues to grow. 66% of small businesses surveyed are spending more time on social media than in the previous year.
Everyone Likes Facebook – Facebook is currently the leading social media resource for small businesses. 90% of small businesses report using Facebook, while Twitter follows in second place with 70% of small business use. 34% of those surveyed report posting to Facebook several times a week, while only 21% tweet on Twitter several times a week. LinkedIn usage trails a distant third followed by Google+, and Pinterest.
Small Business Blogging – 55% of companies report having a business blog. The trouble with blogging is the regular content needed. Writing a blog post can be difficult and most companies want to make sure they do their blogging correctly. 45% of blog users report that each post consumes 1-3 hours, while 16% claim that a blog post takes longer than 3 hours on average to compose.
Content Consumption – While the survey did take into consideration activities on social media outside of finding and posting content to social media channels, it appears that the singular act of finding and posting content is where small businesses spend the majority of their time. Other activities that small businesses spend time on social media include tracking their social media efforts, scoping out competitors, and responding to customer questions.
There is no question social media marketing is on the rise; four times the number of participants have actually increased their social media budget versus those who have decreased their budget in the recent past. A growing trend that comes from this survey also seems to show that small businesses are increasingly realizing the value of paying for fantastic publishing/analytics tools with 36% of small businesses adopting these services and over 50% paying $20 or more per month. Check out our free HubSpot trial below for an easy solution to all of your internet marketing and content management needs.