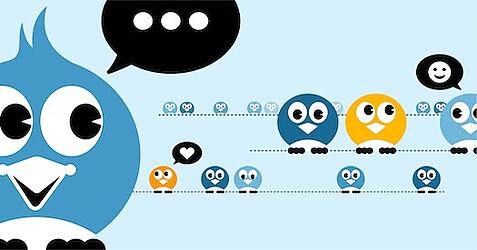 Social networking has quickly become the newest and most important way to find leads and increase your sales. Forget the "9-to-5" approach and hold off on the hard sell pitches. Social selling transcends those methods and can bring your sales to a whole new level. Companies all over the world are adopting social selling—IBM even tested a pilot social selling program and reported a 400% within the program's first quarter. The landscape of sales is changing and if you're not adopting social selling techniques you're about to be run out of business. That's why N5R has put together our list of The Top 4 Social Selling Techniques You Need To Increase Your Sales.
1. Gather Intelligence
Social networks can give you the tools to get a leg up on your competition, but only if you use them the right way. LinkedIn, for example can be used to find and target specific decision makers. Twitter can be used to analyze what your prospects are thinking and doing. Do your research and use each social network's ability to your advantage. Doing you homework and gathering the appropriate intelligence can lead the way for a major increase in sales. In fact, CSO Insights recently reported that effective use of sales intelligence strategies increased "revenue productivity per sales rep by 17%!"
2. Extend Your Network
Remember when exchanging business cards at and event was the best way to network? Well times have changed and so has networking. The utilization of social networks for social selling gives you a way to add contacts and prospects to your network around the clock. Forget cold-calling and poorly targeted mass email messages. With social selling you can be constantly engaging potential customers and building a strong network of referrals to target more effectively.
3. Personal Brand
While gathering intelligence and extending your network are hugely important to social media sales, neither is actually going to help you sell. For that we look to your personal branding. You're not the only one out there vying for these social networkers business. You need to set yourself apart by connecting with your prospects. The best way to do that is by building a consistent personal brand. Take the time to build a brand image that is consistent in tone on networks like Twitter, Facebook and LinkedIn. Use that tone to participate and join in new conversations at every opportunity you get. By establishing a consistent tone and form of communication you can build up a sense of trust and authenticity and ultimately prospects will feel more comfortable doing business with you.
4. Listen
Listening is just as important to gaining trust and authenticity. Social networkers are living very much in the moment and you need to stay relevant with what you're saying if you want to stay relevant in your prospects minds. There are many functions that allow you to track what people are talking about on different social networks. Twitter allows you to track certain keywords and hash tags, while Linked has a handy "Signal" feature. You can even use outside applications for more sophisticated tracking. Check out Hootsuite or Tweetdeck, or do your own research and find the application that best suits your business's needs. Keep on top of what is being said and your can stay relevant and top of mind for your prospects.
If you want to learn more about how to leverage the power of social media to increase your sales, apply to our exclusive one-day Condo Mastery seminar.
Watch the video below to hear about Condo Mastery directly from world-renowned condo and sales and marketing expert, Roman Bodnarchuk, and click APPLY NOW to learn if you qualify.