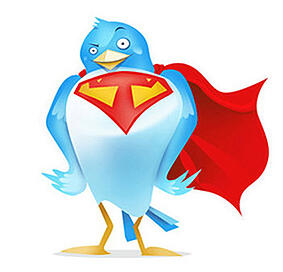 Twitter is an amazing social network. It has the ability to connect you with millions of potential customers around the globe. It's a powerful communication tool, but as we all learned from the comic books of our youth—With great power comes great responsibility. Use Twitter the right way and you can boost both your social presence and your sales. Use it the wrong way and the backlash could be tremendous. Lucky for you, N5R has 5 great tips that will help you use Twitter the right way. If you follow them all, or at least a strategic combination of them, you'll be sure to increase your social selling capabilities and your brand's online presence. We're talking real estate sales in this article, but these tips can certainly apply to any product or service that you're trying to sell.
1) Stand Out
In the world of social media, it's not about selling your real estate - or whatever product or service you're selling - it's about increasing your brand's presence. With all the styles and themes that Twitter has available for your organization's Twitter page, it's easy to make your site presentable, but presentable isn't enough. Not when you're trying to become a social seller.
If you want to sell your real estate on Twitter, your Twitter page needs to make a statement. Create a custom background that highlights the benefits of your product. Do you have listings? Include them in your contact information. Are you selling for another organization? Brand your Twitter page similarly to the organization you represent.
Worried about technical know-how? Don't. If you don't have the skills to create a custom site that looks great, invest in an online custom background provider. It'll help you stand out, keep you looking professional and won't cost you an arm and a leg.
2) Be The Expert
As with any type of sales, if you want your customer's trust, you'd better know what you're talking about —Twitter is no exception. You've got to take every chance you get to let your social network know that you're a real estate expert.
Take some time to search for other "experts" or organizations similar to yours. How are they beginning new conversations? Are they using specific hash tags? What kind of information are they communicating? Study these competitors and use what they do successfully as a template. Just be sure that you're keeping your content up to date. No one is going to think of you as a real estate guru if you're just recycling your competitor's information.
3) Study User Patterns
As you start using Twitter more and more, you'll probably start to see some patterns in your followers' activities. Most people have a daily schedule they stick to and their Twitter time will probably follow a schedule as well. Study the patterns by looking at when your posts are most often read, or when you are most often retweeted during the day.
Take that information and use it to your advantage. Schedule your tweets so they will be on the top of your followers' feeds when they're checking them. Some Twitter users follow an enormous number of other Twitter users, so getting your messaging to them at the right times of day can make all the difference. Time your tweets correctly and you'll have a better chance of reaching your customers, getting a response and making a sale.
4) Monitor Keywords
Keywords are important when it comes to finding leads on Twitter. Finding the right keywords can help you stay up to date with trending topics and keep you relevant to your followers. Remember, Twitter is about the Now. Lose your relevance and you've lost your audience.
There are a ton of applications available online that can help you monitor and track your relevant keywords. HootSuite and Tweetdeck are both pretty good, but do some research and pick one that works best for your business.
Keep an eye on keywords you believe are relevant for possible leads. As an example, if you're selling condos—a relevant keyword to keep an eye on might be house hunting.
Don't forget to monitor your competitors' keywords as well. Twitter is often used to post grievances about businesses. Make sure you monitor carefully and you might find customer who's disgruntled with your competitor. Now that's a lead you'll want to follow up on!
5) Advertise
This last tip might not be for everyone, but depending on your budget and your needs, consider checking out Twitter's promoted tweets. This is a service that Twitter offers that will allow you to send targeted tweets that can appear either in search results or on user's Twitter Feeds. You'll have to pay for this feature, as it's essentially an advertisement, but you'll be able to reach a wider audience and target your tweets geographically. It might not be right for your business, but it can really help boost your sales.
So there are N5R's tips for increasing your real estate sales with Twitter. Use them well and you'll see your sales go up in no time at all. And if you need some more advice on how to leverage social media to increase your sales then download our Free Ebook – It's Not the Market, It's Your Marketing