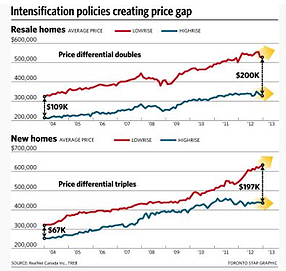 The January GTA housing market numbers are in and N5R has them for you. We've broken the raw data down to let you know what trends are occurring, why they're occurring and what it means for marketers.
Overall Numbers
According to the Building Industry and Land Development Association's official source of new home market intelligence, RealNet Canada Inc., there were 1248 new homes purchased across the GTA in January, which is a 34.9% decrease from January 2012. It might seem like that number would be the story here, but there's a lot more going on that that.
Let's break it down a little further to take a closer look.
Low Rise Numbers
Of those 1248 new homes purchased in January, 562 of them were singles, semidetached and townhomes. To put it in perspective, a typical January would have seen approximately 1000 new low-rise homes built. Another interesting point to note is that, according to RealNet's New Home Price Index, there has been a 16% increase in the low-rise housing market.
High Rise Number
The high-rise numbers tell us a bit of a different story. There were 686 high-rise units purchased in January and as of the end of 2012, new high-rise units are being priced $197,000 higher than low-rise units.
Why is this price gap becoming a price canyon?
Well, the answers can actually be found in recent government policies, but not necessarily in the type of policies you'd expect. When most people think about government policies that have an impact on housing markets, they usually look to changes in interest rates. In this case however, we're talking less about monetary policy and more about land use policies.
Eight years ago Ontario introduced what are referred to as intensification policies. These are policies that call for upward, rather than outward growth. That means more high-rise homes and fewer low-rise homes.
The housing market has certainly felt the impacts of these policies, and you don't have to look much further than the price gap between low-rise and high-rise units to see it.
The price gap between low-rise and high-rise resale homes has doubled since 2004 from $109,000 to $200,000 at the end of 2012. And for new homes that gap has tripled since 2004.
What does this mean for condo marketers?
Well, although the price of high-rise units has leveled off in 2012, this intensification has created a limited supply of low-rise homes and cause prices to increase by 16%. That means it could be harder than ever to market these high priced units.
If you want to sell you'll need marketing that works in any market and that means leveraging the power of the digital world. Download our free E-book It's Not The Market It's Your Marketing for some tips.
If you want to delve deeper into the training that will allow your condo project to Develop, Grow and Succeed in any economy apply to our exclusive one-day Condo Mastery seminar. Watch the video below to hear about Condo Mastery directly from world-renowned condo and sales marketing expert Roman Bodnarchuk and click APPLY NOW to learn if you qualify.