In case you missed yesterday's blog, we posted Part 1 our list of 15 Businesses That N5R Applauds For Their Creative And Consistent Branding. Today we've got Part 2 of that list and if you did miss yesterday's blog check it out here.
8. Lush
This homemade cosmetics company believes in "making effective products from fresh organic fruits and vegetables," and in "happy people making happy soap." You can find that out by reading about them on their site or just by taking a look at their branding. Everything about this business's branding screams healthy and waste free with a personal touch. All their packaging showcases the ingredients front and center along with a sticker adorning the face of the employee who made it. It reminds the customer that they have absolutely nothing to hide and instills a sense of trust in the brand.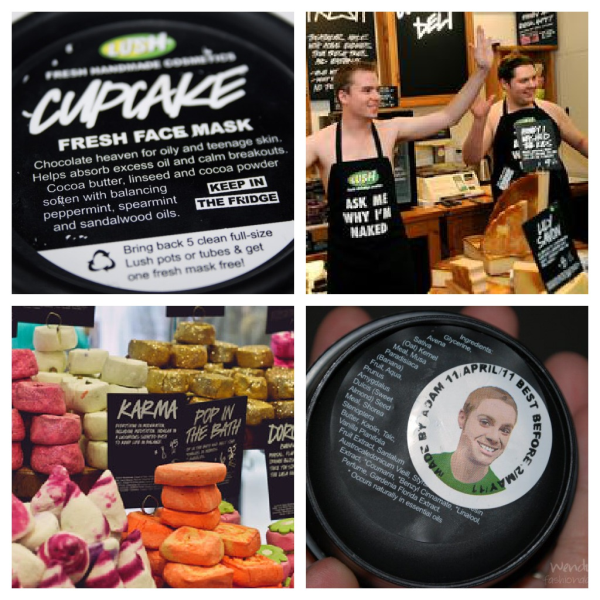 9. Boloco
Their slogan is "inspired burritos" and their branding is inspiring. This local Boston burrito company uses consistent branding with their slogan, font, and a hand–made touch. Be it napkins, local events, their website, or their mobile app—everything has the same local feeling to it. Even their gift cards feature handcrafted images of Boston landmarks to remind you that this is a local Boston business.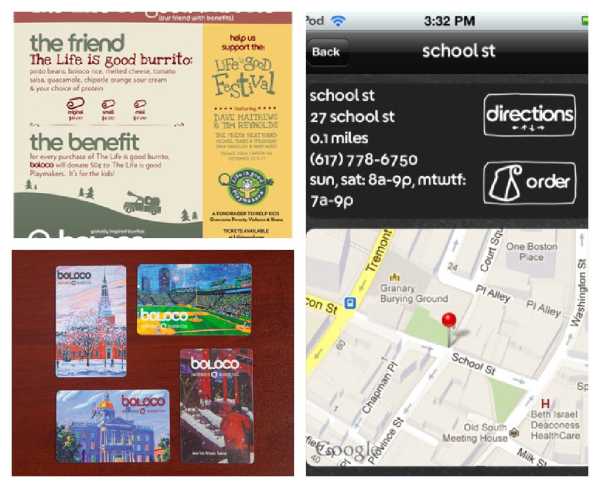 10. MFA Boston
The Museum of Fine Art in Boston shows us that you don't need to shove your branding in consumers faces to be noticed. They have a museum full of colourful complex canvases, but when it comes to branding they keep it simple. This company chooses to stick with a recognizable colour pallet and a subtle logo that stands out without sticking out. It uses the same design structure for every material it produces and gives consumers a familiar feeling with every communication they come across.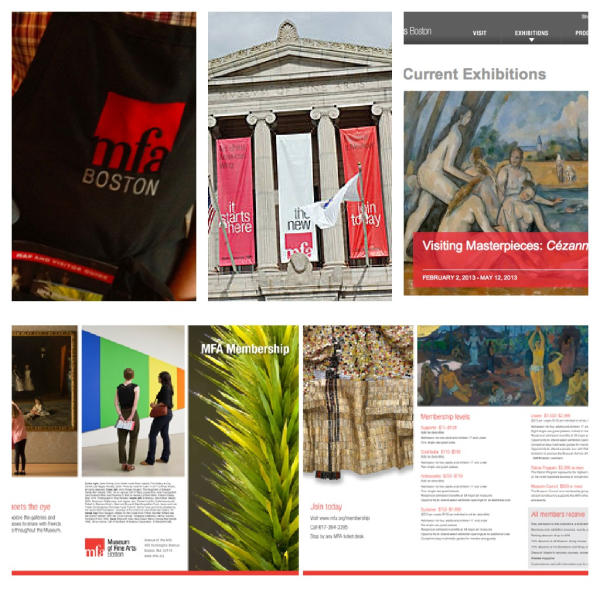 11. Intercom
This Internet based customer service platform believes that "making customers jump through hoops to try to get help is incredibly disrespectful" and it shows. Their site is designed for ease of consumption down to every last detail. They make a point of using images wherever possible to make it easier for customers to take in their content. They use employee photos to tell us about their company and maps to explain contact information. Even their blog is filled with helpful and explanatory charts and graphs that don't just look pretty, but add value to the content. All of this allows customers to move more easily through their communications and reminds them that with Intercom, they never have to work too hard to understand.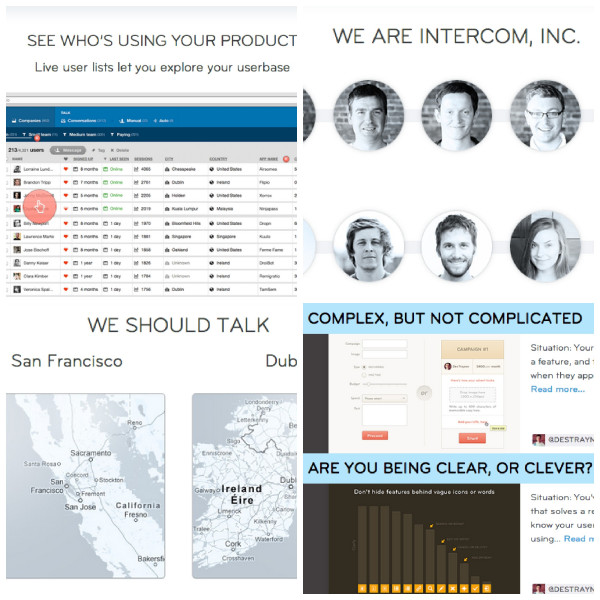 12. Innocent Drinks
Innocent Drinks' name says it all. They're a juice and smoothie maker out of England and every aspect of their branding takes the customer back to a more innocent time in their lives. From their inventive site navigation to their product packaging—you can't help but feel like a kid again. Even their site's meta description stays true to their innocent branding— "hello, we're innocent and we're here to make it easy for people to do themselves some good (whilst making it taste nice too)."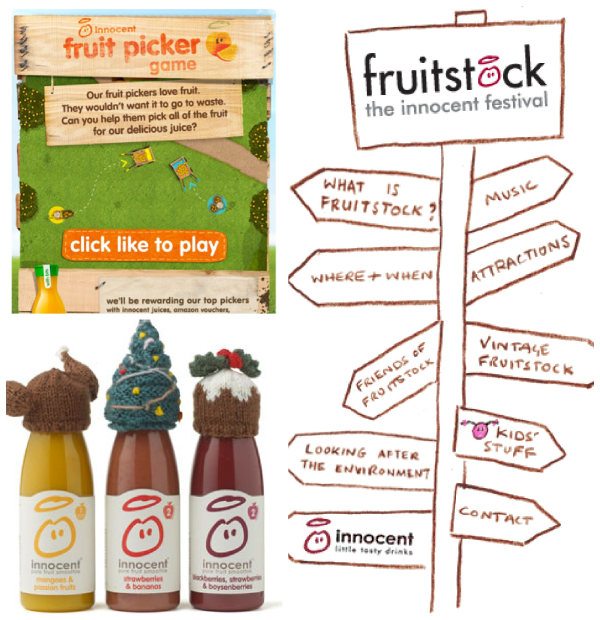 13. Zendesk
They're a cloud based customer service software system and if their name doesn't tell you what they stand for, try taking a look at their mascot. They know that customer service platforms are often considered aggravating and difficult to deal with and they combat that right out of the gate. Their use of "zen," both in their name and in their exceptionally happy Buddha mascot, shows customers that this is a different kind of customer service. The bright colours and happy relaxing imagery gives customers a certain peace of mind when dealing with this brand—a far cry from the usual anxiety that goes along with other customer service platforms.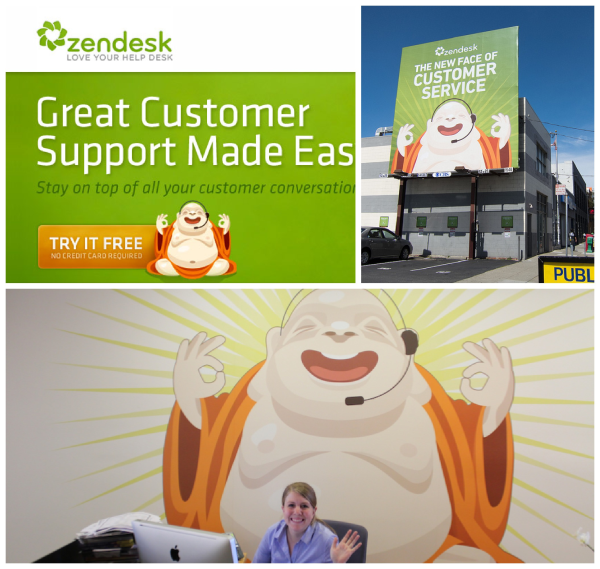 14. Lululemon Athletica
This yoga and sportswear brand is about more than just the clothes—it's about a lifestyle. Their brand takes every opportunity to remind customers that they are for you having a healthy and active lifestyle. They do this in all their signature communications by using real lifestyle photography with images of yoga mats awaiting use and healthy people in various yoga poses. It's about more than just communications with Lululemons though. This brand takes things a step further by offering free yoga classes both in store and as outdoor events.

15. ZocDoc
No one wants to be reminded of how stressful and aggravating the process of finding a doctor can be. That's why ZocDoc's communications steer us as far away from that thought as possible by relying on a playful cartoon mascot. The hand drawn style animation reminds us of being children, when everything was so much easier. The mascot is consistently present on every channel of communication and so is their friendly inviting tone. All of it puts the customers mind at ease and makes the process of finding a doctor a little bit friendlier.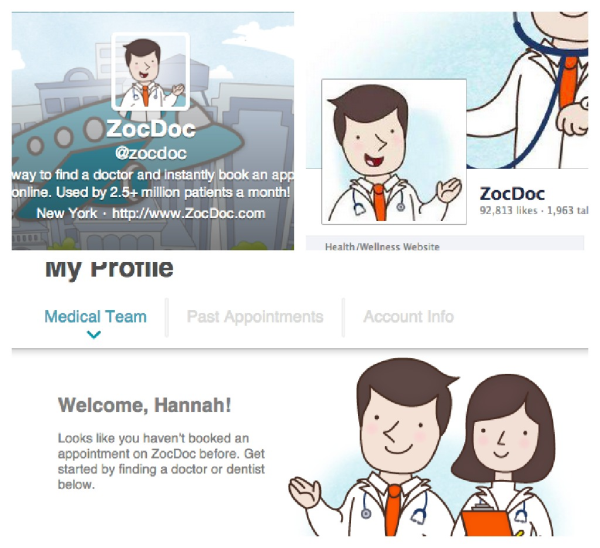 N5R loves the use of creativity and consistency to get a message across and if you want your company to be a success it might not be a bad idea to model yourselves after any of these great brands.
If you want to learn more about how to leverage the power of social media to increase your sales, apply to our exclusive one-day Condo Mastery seminar.
Watch the video below to hear about Condo Mastery directly from world-renowned condo and sales and marketing expert, Roman Bodnarchuk, and click APPLY NOW to learn if you qualify.