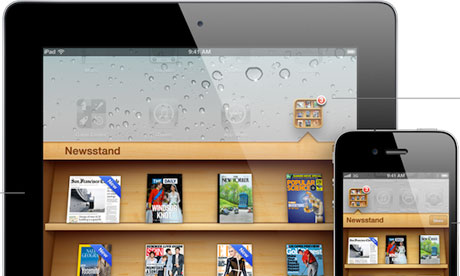 It's no secret that the publishing world is changing rapidly. The Internet has done away with traditional print media. Instead, readers have opted to get their current events online with their desktops or laptops. Now an even newer trend is emerging. The rise of smartphones and tablets has given readers the even more palatable option of getting their news on the go, wherever they are, with specially made apps and Apple has made it even easier. It's called Newsstand and it is on every iPad and iPhone sold. It will store all your publication apps in one place and give you the ability to easily download more at the touch of your screen. Here at N5R we're very interested in how we can utilize this growing trend to increase sales and have put together a list of 5 Key Insights To Keep You Informed.
1. Mobile Lets Readers Read More
Mobile publication apps make reading easier than ever before. Users have access to an entire world of content in one compact little devise that they likely have with them at all times. As such, these users tend to read more than they used to. A recent study by Pew Research Center found that nearly a quarter of Americans regularly get their news from a mobile device (smartphone or tablet). On top of that, those using mobile devices for news consume more content and return to the news site or app more frequently than they do on computers. This means more traffic for apps on Newsstand and more revenue opportunities for the producers of those apps. People are certainly willing to pay for the convenience of these apps too. Since its launch, the iOS Newsstand has seen a revenue growth of 407%.
2. Publishers Are Adapting Their Business Model
One of the biggest issues facing these publishers is how to monetize their product in a world with so much free information available online. The answer to this question is still not totally clear. It is an evolving process, but there is some sign of what's to come. As we have mentioned, consumers are willing to pay for the convenience of a user-friendly app experience on their mobile device. Many publications have taken on the strategy of paying per issue downloaded or paying for a download subscription, but the numbers seem to indicate that the real revenue generation comes from in-app purchases.
To give you some perspective on this, 88% of apps available on Newsstand have in-app purchases available, but 99.5% of the total revenue generated on Newsstand is generated by that 88%. That means that the 12% of apps that are not using in-app purchases are only accounting of .5% of the total revenue generated by Newsstand.
The numbers seem pretty clear. If you want to be a revenue generator on Newsstand, you'd better be using in-app purchases.
3. iPads over iPhones
There's no question that the experience of interacting with your iPad is more pleasing than with an iPhone. This isn't to say that the iPhone doesn't have it's many practicalities—its smaller screen makes it a more mobile devise and its meant to stay in your pocket at all times, that being said, there are some moments when a bigger screen is necessary. Currently, Newsstand revenue from iPads is 3 times higher than that of iPhones. When you're talking about generating revenue with Newsstand, you've got to be talking iPads.
4. Brand Names Reign Supreme
Unlike other popular apps that are mostly new unheard of start-ups with innovative and interesting ideas, the most popular Newsstand apps tend to be large established brands. Theses brands have already earned the publics trust through decades of publications and readership. The New York Times for instance is both the most popular Newsstand app and the greatest revenue generator. This may not continue to be the case in the long run though. Aggregators like Flipboard, Zite, and Pulse bring together content from a variety of sources and give users even more convenience. These aggregator apps allow readers to easily discover new and interesting content from sources they may not have initially been interested in. Contributing to these types of apps is a great way to get your new content discovered by new audiences.
5. Global Trends
One of the biggest advantages to housing your publication's app on Newsstand is the instant access to 155 regional stores worldwide. But what do the numbers say about the current trends? At first glance one might assume that China would be the most coveted market. With a huge growing population and increased access to smartphones and tablets, this market might seem like a gold mine. Although it is the case that China has become the number 1 downloader of Newsstand Apps world wide, when you look at the revenue from those apps China falls short. In fact, the US is still the number 1 revenue generator from Newsstand apps with China all the way down at the number 19 spot. This may not stay the case forever, but for now the US market is the market to compete for.
So what does all this mean to creators of new Newsstand apps? Well, more than anything, it means that things are changing fast. The publishing industry has changed tremendously over the past 5 years and you can expect it to change a lot more in the next 12 months. N5R's best advice is to stay informed and keep on top of the current trends. Understanding these changes first is the only way to truly stay ahead of the curve.
If you want to learn more marketing strategies to increase your sales, apply to our exclusive one-day Condo Mastery seminar.
Watch the video below to hear about Condo Mastery directly from world-renowned condo and sales and marketing expert, Roman Bodnarchuk, and click APPLY NOW to learn if you qualify.