Roman Bodnarchuk, our Chairman and CEO here at N5R, recently interviewed Mike Volpe for our new Sales and Marketing TV show. Mike is the CMO of Hubspot, our inbound marketing software of choice. The show is called Big Business Secrets and it premiers in April. As a bit of a teaser we thought that we would give you a taste of some of Mike Volpe's insights on Social Media Marketing.
During a recent Twitter chat Mike was asked, "What 6 words would you use to describe the future of social media marketing?"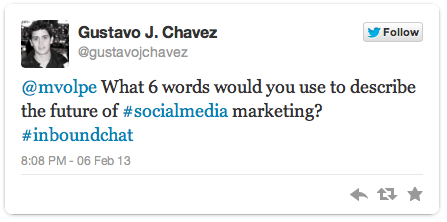 He responded with these 6 words:
-Permission




-Customer-centric

-Real-time

-Chaotic

-Neurotic

-Fun
We've broken down those 6 words and delved deeper to find out what each word really means for Social Media Marketers.
1. Permission
Permission is what in-bound marketing is all about. It's the idea that leads are seeking out information from marketers as opposed to marketers trying to force information on leads. People are tired of being inundated with advertisements and marketing messages that don't interest them and they've learned to block them out. Marketers have to use permission based marketing techniques if they want to keep up—that's where Social Media Marketing comes into play.
Social networks are where your future potential customers go to seek out new information and if you want their business you need to market effectively to them. That means letting customers come to you. If you want to market to consumers on social media you have to earn their permission first—Once you do, you can truly being to understand your audience and market to them in a much more effective way.
2. Customer-Centric
This might seem a bit counter-intuitive. If we're talking about marketing to potential customers why would you want to focus on customers you've already won? The answer is that with Social Media Marketing the marketing never stops.
Your potential customers will not only engage your business, but they will engage your current customers as well. They'll ask them for their opinion on your product and look for reviews or referrals.
Social media marketers need to keep up their conversations with current customers and continue to engage with them on a personal level. Continue to earn your current customers trust and they will be more likely to help you earn new leads.
3. Real-Time
Everything to do with Social Media happens in real-time and the marketing is no exception. People are on social networks to hear and share about the here and now. Potential customers won't want to engage with your marketing efforts if they seem behind the times.
Social media marketers will need to learn to stay actively engaged with trending topics and utilize hash tags and keywords. If it's Oscar night, tweet about the Oscars using a hash tag. This will foster a stronger sense of community with your potential customers and make them feel like you're experiencing events right along with them. Eliciting a communal feeling from your leads will make them more likely to engage with your future marketing efforts.
4. Chaotic
No question about it. When you get a good trending topic going on any social media things can get chaotic. The sheer number of users involved in a single conversation can often make it difficult to follow. Twitter alone has 2314 tweets sent every second according to Integer Group
The question for social media marketers is how can you stand out in all this chaos? The answer—Be remarkable.
Keep the quality of your content high by staying relevant and consistent. You won't become remarkable with a single tweet, but by consistently improving and adapting your content to the needs of your target. In other words, make your content the content that's worth following.
5. Neurotic
When it comes to social media marketing, there's a lot going on. There are a million networks and new ones are popping up everyday and it can often be difficult to understand what is working and what isn't.
The best way to work past the neurosis that comes with social media marketing is to keep things simple. Form a social media strategy and measure it's ROI. Focus on where your leads are coming from and if your strategy isn't working adjust it to better suit your needs. Social media marketing isn't an exact science to say the least and what works for some business might not work for you. Find a strategy that works for you and be consistent with it. Once you've found a method that works your neurotic feeling will disappear.
6. Fun
Yes, it's easy to forget, but social media is meant to be about fun. It's why people sign up for these networks and most of the time that's what consumers look for. Don't forget that social media marketing doesn't need to be serious all the time. Have fun with it! And in the words of Mike Volpe "Don't be afraid to get creative and experiment with your marketing."
Social media is fast paced and rapidly changing world, but understanding and utilizing these 6 words is the first step to understanding the future of social media marketing.
If you want to learn more about how to leverage the power of social media to increase your sales, apply to our exclusive one-day Condo Mastery seminar.
Watch the video below to hear about Condo Mastery directly from world-renowned condo and sales and marketing expert, Roman Bodnarchuk, and click APPLY NOW to learn if you qualify.