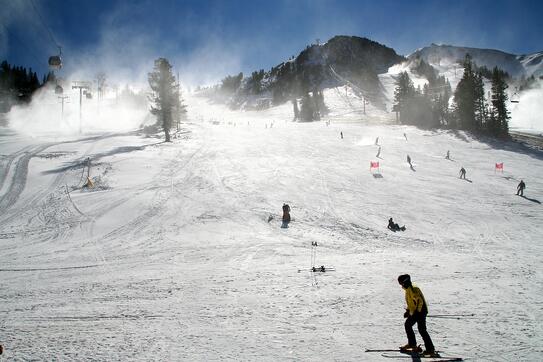 We're taking another look back at one of N5R's successful projects and sharing the marketing lessons that we learned.
The Challenge
Mammoth Mountain was the largest ski resort in North America. Located about 5 hours outside of Los Angeles, it was truly an amazing place. At one time, Mammoth was on top of the mountain when it came to selling lift tickets, but they had fallen to 17th place. As a result, this giant ski resort was under new ownership and these new owners were looking to turn things around.
They came to N5R and asked us to help them bring their lift ticket sales back to the top 10 within the year. We, of course, jumped at the opportunity, but when we got to Mammoth we saw that we had our work cut out for us. Everything about the resort appeared old, tired, and outdated. In fact, the entire place looked like it had been built in the 70's. The new ownership had committed to making a huge list of upgrades, but that kind of construction would take years to complete and we needed to get these lift tickets moving before then. On top of that, we were given a very small marketing budget, leaving us very little room to work with.
The Solution
We knew our largest target market was in LA. The question then became, how could we make a splash in on of the biggest marketing saturated hubs in the world on a shoestring marketing budget? We started to brainstorm and as we were staring out the window watching the chairlifts hum along with no one in them we had a realization. The lifts run no matter what. That meant that there were no extra costs associated with giving away lift tickets. This was how we could make an impact. We would create a lift ticket giveaway contest for contestant in LA. The free lift tickets would bring in the skiers and those skiers would spend money at the resort. LA was 5 hours away, so it was unlikely that these winners would come only for the day. That meant that skiers would have to spend the night and the resort would collect the revenue spent on meals, shopping, rentals and accommodations. What we didn't realize at the time was that telling a ski resort to start giving away lift tickets is just about the most insulting thing you can tell them. The meeting ended right there and we actually thought that we had just lost our client by unintentionally insulting them.
A full month later we received a call back. They were ready to talk about our plan again and we weren't going to waste this opportunity. The mountain was huge and we needed a huge prize giveaway to match, so we asked the resort for a million dollars in lift tickets. They agreed, but now we were left with another issue. We still had almost no budget to advertise our giveaway.
The Sponsors
What we did have were two major brands, already actively sponsoring Mammoth. Ford and Sprite were both easily approached as they had a well-established relationship with the mountain resort. We began by talking to the VP of marketing at Ford. He told us that he wasn't willing to spend any extra money advertising the giveaway. He was however, happy to tie the giveaway to the existing advertising campaign. This meant that our million-dollar giveaway would be mentioned in every Ford advertisement, giving us huge exposure. Next we approached Sprite with a similar proposal. They told us that they wouldn't spend any new advertising dollars either, but they would place our message on every can of Sprite that they sold.
The Results
All of a sudden The Ford Mammoth Million Dollar Giveaway URL was everywhere. Over a quarter of a million people signed up for the giveaway and not a single dollar was spent on new advertisements. Because the contest had blocked using the giveaway during peak revenue times, the free lift tickets never affected the resorts revenue flow. Instead the giveaway filled in revenue gaps during periods that were normally slow and made the resort appear livelier than it had in years.
The contest ran without a hitch and both of our sponsors were extremely pleased with the results. Along with the resort they now had access to the thousands of qualified leads based on the information that contestants had provided in order to qualify for the giveaway.
To quote the Senior Marketing Director of Mammoth, Rob Perlman, "The Ford Mammoth Million Dollar Giveaway is the ultimate campaign—a testament to the power of integration online with offline marketing. This campaign was the first of its kind, setting new standards in the North American resort industry."
The contest allowed Mammoth to win two National Ski Areas Associations Awards for Best Sales and Promotion Campaign Using New Media and Best Program to Increase Frequency of Core Participants. It led to the most successful business results for the resort in the past 15 years—a 25% increase in visitors and a 19% increase in revenue over the previous year. We not only reached our goal to crack the top 10 in lift ticket sales, we brought this resort all the way to the number 3 spot in North America.
The Lesson
Don't Rely On Advertising
Just because your advertising budget is small doesn't mean you your exposure needs to be. Get creative and think of new ways to get your message out. Use what you have and be resourceful and you'll be surprised the results you can achieve without busting the bank.
If you want to learn more marketing strategies to increase your sales, apply to our exclusive one-day Condo Mastery seminar.
Watch the video below to hear about Condo Mastery directly from world-renowned condo and sales and marketing expert, Roman Bodnarchuk, and click APPLY NOW to learn if you qualify.