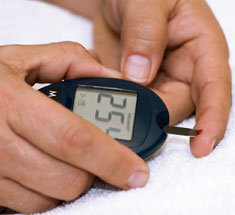 Today we're taking look back at yet another of N5R's many successful projects and sharing the marketing lessons that we learned.
The Challenge
Anyone who's worked in the world of pharmaceuticals can tell you, it's one of the most heavily regulated industries in the world. That means that finding interesting and attention grabbing ways to market these products can be difficult, to say the least. Never the less, N5R jumped at the chance to help one of the biggest and most respected pharmaceutical companies in the world increase their share of the diabetes testing device market.
Because of the regulations around these devises, they are marketed almost exclusively through pharmaceutical representatives. These representatives travel to doctors and pharmacists and make a brief presentation to promote the use of their devise over other similar devices. The problem is that it was almost impossible to determine the effectiveness of each representative's presentations for this device.
The Solution
The logical solution to this issue would have been to survey the doctors and pharmacists that had been presented to and evaluate the presentation's effectiveness. Unfortunately, most doctors and pharmacist are extremely busy and don't normally want to make time for the representatives themselves, let alone a follow up survey. How then could we reach these doctors?
We thought about the phycology behind doctors and pharmacists and decided that these are intelligent people that would definitely be interested in comparing their intelligence to others in their field. With that in mind we created an online test that they would be willing to fill out—an IQ test.
The pharmaceutical reps would promote the online IQ test once they completed their presentation on the diabetes-testing device as a way to compare their intelligence to others in their field. The trick was that the questions in this IQ test were actually about the presentation that had just received.
By "testing their IQs" these doctors and pharmacist were actually giving a measurable evaluations of the effectiveness of the representative that had presented to them.
The Results
There was a huge amount of interest in the survey, as doctors and pharmacists were extremely curious to find out how their intelligence compared to their colleagues. More importantly, our client was able to collect a massive amount of measurable data on the effectiveness of their representatives. They used this information to retain or rehire new reps based on their effectiveness and increased their market share as a direct result. The IQ test had such successes that that global pharmaceutical company has continued to use it to this day.
The Lesson
Understand Your Target
Get to know your target and make sure you understand them. This is the only way to truly determine what they value. Once you understand what your target wants, you'll be surprised by the amount of information they are willing to provide you if you offer it to them.
If you want to learn more marketing strategies to increase your sales, apply to our exclusive one-day Condo Sales and Marketing Mastery seminar.
Watch the video below to hear about Condo Sales and Marketing Mastery directly from world-renowned condo and sales and marketing expert, Roman Bodnarchuk, and click APPLY NOW to learn if you qualify.