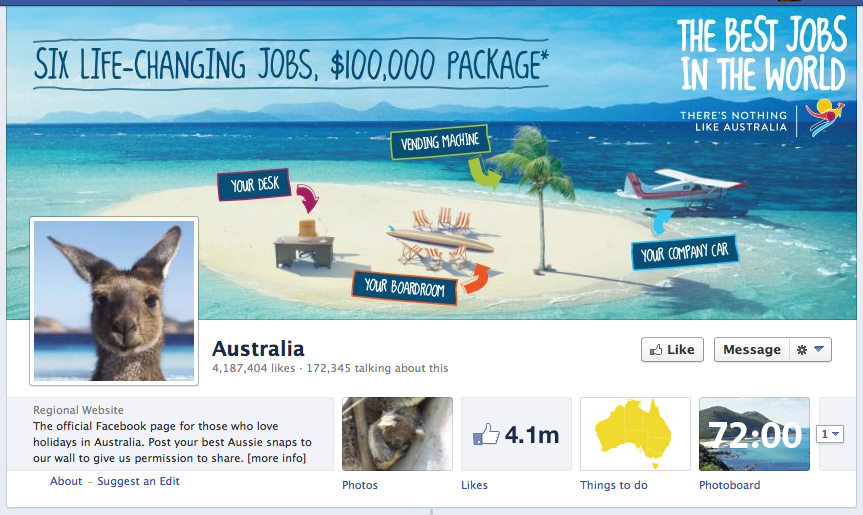 Anyone who has ever questioned the power social media in the digital age need only look to Tourism Australia in order to understand. This destination marketer has cultivated a brilliant understanding of social networking. Although its operation encompasses 22 markets in 17 languages and is home to a workforce of about 200 employees, only 3 of those employees have social media titles. How then, is it possible that in 2012 Australia became the most popular travel destination on Facebook, Google+ and Instagram?
Well, according to the Slideshare presentation they've released entitled "The Worlds Biggest Social Media Team," they did it by sticking to 5 core ideas. Here at N5R, we've taken a closer look at each of those ideas and broken them down to see what lessons we can learn from this amazing inbound marketing campaign.
1) Create Platforms That Fans Can Build On
It was the middle of 2011 when the social media team at Tourism Australia had an idea. Rather than creating content and pushing it on their fans, they would hand over control of their Facebook page to the fans themselves.
"The possibilities are endless. When we saw the potential we quickly moved from a team that was producing static one way stories to dynamic multi angles ones co-developed with our fans."
Jesse Desjardins – Social Media and Advocacy Manager, Tourism Australia
The results were dramatic. Fans started sending in over 1000 photos per day, in the hopes that they would be featured on the Tourism Australia page. It gave Australians the chance to promote Australia the way they wanted to promote it. It put the power of content creation completely in their hands and with very few barriers. Fans were encouraged to use any camera they had on hand and they responded. Amateur photographers started snapping pictures with their point and click camera's and even their smartphones. Professional photographers take only about 40% of the content on Tourism Australia's pages.
On top of that, it allowed Tourism Australia to capitalize on every new aspect of Facebook quickly and easily. For example, when the timeline function was added to Facebook, Tourism Australia encouraged its fans to share their Australian history and spurred on the submission of thousands of family holiday photos and classic memories.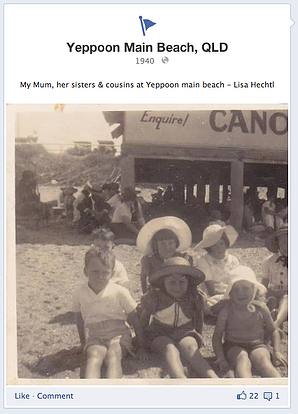 2) Make Fans The Hero
Tourism Australia's social media team did what any great marketing campaign must do—they told a story. However, while most destination marketing campaigns would have made the obvious choice and told a story where their destination was the hero, Australia's story made their fans the heroes. Taking this approach allowed the team to focus on curating content, rather than creating it. As well, this strategy created more compelling story lines that focused on people instead of a destination.
Fans have a variety of incentives to share their stories. It can give them a chance to promote their professional photography work, to share their national pride, build on their own fan base, or even just to have their photos seen by a wider audience. Whatever their reasons, there's no doubt that they're sharing. Fans create 95% of the content on Tourism Australia's social media pages.
By putting the focus on the fans, stories become more engaging and potential visitors are exposed to sights and experience within Australia on a more personal level.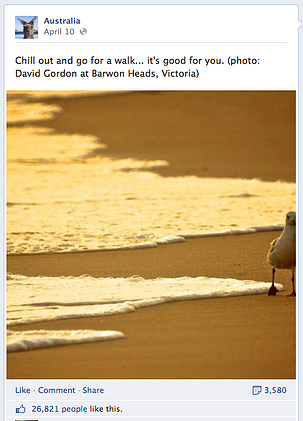 Make sure to visit our blog tomorrow for part two of N5R's in depth look at the lessons learned from Tourism Australia's Social Media Marketing.
If you want to learn more strategies for leveraging the power of social media to market real estate in the digital age apply for our live Condo Marketing Mastery Seminar.
This exclusive seminar is presented by N5R's Chairman and CEO, Roman Bodnarchuk, and will allow you to grow your condo sales by 47% within the next 12 months.