Whether it's condo project marketing or real estate project marketing, you can't just throw random ideas together and see what happens. Every project is a little bit different, but it helps to set parameters. Start with these five strategies and your project sales experts should be on the right track.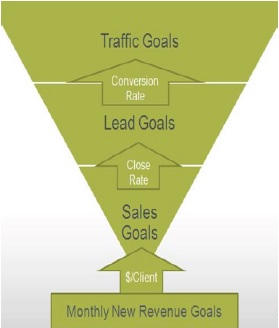 Create: blog; website pages; landing pages - This is how to be seen. Grow your footprint and give search engines a reason to crawl your site. In the world of project marketing, content is king.
Optimize: keywords; links; web pages - Showcase your website to search engines. Optimized pages not only drive traffic, but qualified leads, giving you oppertunity for more project sales.
Promote: social media; email manager - The Web today is bigger than just search engines. Take advantage of social media to find your sales targets. Use email to reach out and get known.
Convert: prospects; leads; lead engagement - Find prospects, convert them to leads, and convert leads to sales. See the previous post, The Traffic Funnel: A Project Marketing Method, for details.
Analyze: blogs; reach; competitors; sources; visit by page - Without analytics you can only guess at how effective your project marketing is from the start. If there is a problem, or your competitors have some advantage and you aren't closing the gap, you might learn it too late. Analytics will allow you to see where your project sales experts can make improvements, and dynamically adjust your sales processes.
N5R
has mastered the art of condo and real estate sales and now you can put our knowledge base to work for you and really take your project's sales to the next level. Just click below to download a free chapter of our book, It's Not The Market, It's Your Maketing