CAMBRIDGE, MA, August 20, 2013 (ADOTAS)
At the INBOUND 2013 Conference in Boston on August 20th in front of 5,000 marketing professionals, co-founders Brian Halligan and Dharmesh Shah introduced the next generation of HubSpot's inbound marketing platform. HubSpot's integrated suite of tools delivers relevant content that has been optimized for personalized interactions across every marketing channel, including email, website and social media. Specifically, the co-founders unveiled a new product to help companies manage their websites called the Content Optimization System, a social media tool in Social Inbox, and updated analytics to help marketers bridge the gap between their web analytics and their CRM solution. HubSpot also announced the launch of a free sales app called Signals.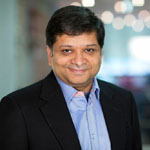 Of the announcements, Shah (pictured) noted: "For the last several years, content has been king, but content only gets marketers half way to an optimal interaction. The HubSpot platform now includes a content management system re-imagined: the Content Optimization System matches content with context to create a highly personalized, relevant and meaningful customer experience. Far too many marketers lose sight of the human beings on the other side of their marketing efforts: solving for the humanization of marketing was a driving force behind today's announcement and our vision for the future of inbound marketing."
"The foundation of inbound marketing is the recognition that the way people work, live, shop, and buy has fundamentally changed," said Halligan. "Now, in addition to having more information at their fingertips and being more in control than ever, buyers access your company's website from multiple devices and via multiple channels. Perhaps most important, as their experience with your company grows, the needs of your website visitors, leads and customers change. Yet the vast majority of marketing treats everyone the same no matter where they are in the lifecycle or how many times they've been to your site. Today, we're giving marketers the tools they need to personalize and transform the experience of their customers. Context truly does change everything, and this is a critical step for personalization that goes far beyond adding a name to an email."
Key updates to the next generation of HubSpot's inbound marketing platform include:
1. Content Optimization System (COS): HubSpot's COS optimizes your website experience for each visitor. Part content management system (CMS), part personalization engine, the Content Optimization System is the first integrated website, blog and landing page system to be mobile-optimized out-of-the-box. It's fully integrated with every marketing channel and personalized based on criteria ranging from lifecycle stage to job title to geographic location, among others. Moreover, the power of the COS is matched by its ease of use: mere mortals can easily personalize each element of the customer interaction, no coding or development knowledge necessary.

2. Social Inbox: HubSpot's new social media tool, Social Inbox, provides context to your stream of social media messages. Social media posts are identified as coming from a customer, prospect or active opportunity, and its alerts allow sales, marketing, or customer service to respond in the right way at the right time. Social Inbox also makes it easy to highlight an individual's lifecycle stage with a simple color-coded interface that links directly with HubSpot's email tool to make follow-up and internal communication on social media alerts more seamless than ever.

3. New Reporting: A new reporting engine within the HubSpot platform adds context to marketers' analytics. Instead of the generic data currently provided by most website analytics, marketers can create tailored reports on specific segments of people. Marketers can, for example, see what marketing channels are most effective at bringing in C-level executives in a certain industry, learning about what works for the people who matter most to the bottom line, and making reporting measurable results easier and more seamless than ever.
"With Social Inbox, we have been able to monitor social conversations and find opportunities to help people share our content," said Pat Palingo of Yale Appliance. "It's easy to edit and fine tune searches, which saves us from reading through a stream of irrelevant chatter."
Of HubSpot's Content Optimization System, Kent Ecklor, Senior Marketing Manager at ADP, noted: "We saw strong efficiencies in having both content and marketing automation in the same platform. For us, the most attractive feature revolves around personalized content and the ability to integrated more advanced digital marketing programs. Working with many tech companies over the years, not many have impressed me as much as HubSpot. I'm excited to see what's next with this innovative company."
To read more about HubSpot's Content Optimization System and Social Inbox, visit www.hubspot.com/products and to download Signals for free please visit www.getsignals.com.
Signals, a New Free App for Salespeople
Also today at INBOUND 2013, HubSpot announced Signals, a new product that extends the company's approach to integrated customer experiences beyond the world of marketing to include sales and services. The company's first offering beyond the marketing space, Signals is a Google Chrome based notification app that tells sales and service representatives when and how to engage leads and customers, showing real-time notifications based on "signals" from emails you've sent, your website, your CRM solution and even social media interactions. Signals also makes it easier to align sales, marketing, and services efforts around the interests, needs and history of any prospect, lead or customer.
Signals, available for free to anyone at http://www.getsignals.com or from the Chrome Web Store, where it has received positive early ratings. The free edition allows users to see who has read the e-mails they send from Outlook and Gmail, and receive notifications when important contacts interact on LinkedIn. The team edition (available for a $10 monthly fee per user) allows integration with HubSpot and will notify you when a lead revisits your website. The team edition also integrates with Salesforce, notifying salespeople of new leads while allowing them to track emails they send out of Salesforce.
Halligan said of the announcement: "We started HubSpot to replace annoying, interruptive advertising with inbound marketing: marketing people love. Along the way we realized the customer experience doesn't end with marketing. Today's buyers behave differently, and that means you need to transform how your organization not only does marketing, but also how you approach sales and services. We believe that people on the front line of sales and customer service deserve tools, like Signals, that make their interactions with your website visitors, leads and customers more relevant and effective."
Sales expert Jill Konrath, author of SNAP Selling & Selling To Big Companies, agreed: "With timely insights into changing buyer behaviors and priorities, alert sellers can quickly create new opportunities and advance existing ones."
About HubSpot
HubSpot is the world's #1 inbound marketing platform. Designed to replace the world's interruptive and annoying marketing with marketing people love, HubSpot makes marketing more efficient, effective, and measurable. HubSpot's inbound marketing software is integrated, powerful, and intuitive to use. Nearly 10,000 companies, agencies, and partners in 56 countries use HubSpot's software, services, and expertise to engage with prospects, leads, and customers through social media, blogs, email, landing pages, and more. HubSpot is headquartered in Cambridge, MA, with offices in Dublin, Ireland, and has been recognized by Inc., Forbes, and Deloitte as one of the world's fastest-growing companies. For the love of marketing, learn more at www.hubspot.com.