Four influences converged during the 1960s and early 1970s to launch Puerto Vallarta into its trajectory toward becoming a major resort destination.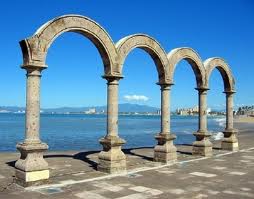 First the federal government finally resolved century old property disputes involving the status of communal land originally appropriated from the Union en Cuale mining company to be parceled out as farms. The communal status of the land had stifled development in the town for much of the 20th century. The transition to private ownership of much of the land within present city limits culminated in the appropriation of much of the land in 1973 and the establishment of the Vallarta Land Trust to oversee selling the land and using the revenue to develop the city's infrastructure.
Second, the American director John Huston filmed his 1963 film The Night of the Iguana in Mismaloya a small town just south of Puerto Vallarta. During the filming, the US media gave extensive coverage to Elizabeth Taylor's extramarital affair with Richard Burton as well as covering the frequent fighting between Huston and the film's four stars. The subsequent publicity helped put Puerto Vallarta on the map for US tourists.
Third, in the late 1960s and early 1970s, the Mexican government invested in the development of highways, airport and utility infrastructure, making Puerto Vallarta easily accessible both by air and ground transportation for the first time. The city's first tourist boom occurred in the late 1960s and early 1970s because of this work. During those years most tourists in Puerto Vallarta were Mexican, and the reason they started travelling to Puerto Vallarta then was because the trip between Guadalajara and Puerto Vallarta was made sufficiently convenient because of the governments investment in infrastructure.
Finally, in 1968 the municipality was elevated to the status of a City. The change in status reflected the renewed interest shown by the federal and state government in developing the city as an international resort destination.