In a recent study, online promotion company Visibli analyzed more than 200 million Facebook Fans to determine engagement habits and found that just 80 minutes after a Facebook post has been published, it has already reached its half-life. Additionally, in a mere seven hours after it's been published, 80 percent of engagement with that post is complete.
Facebook Lessons for Marketers:
While we already understand the importance of fresh content for successful inbound marketing, there are definitely a few Facebook-specific takeaways for marketers here...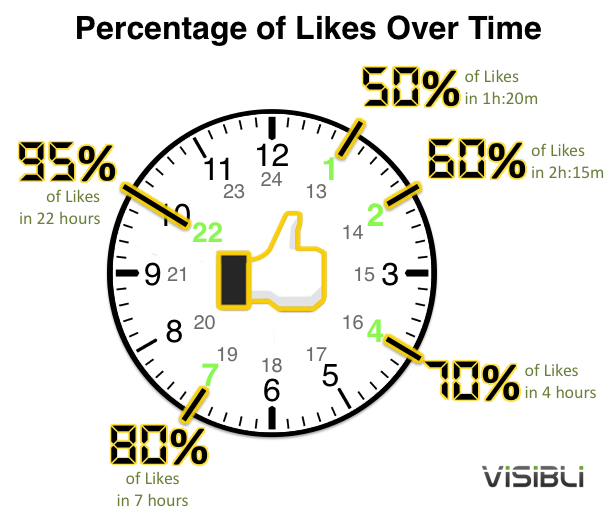 1. Publish Daily: According to Visibli's data, it takes 22 hours for a Facebook post to generate 95% of its Likes. Therefore, it makes sense that marketers should strive to publish at least one post per day to keep their Facebook Page fresh and generating sufficient Fan engagement.
2. But Don't Over-Publish: Consider the shelf-life of a Facebook post. To generate the maximum engagement from each post, avoid publishing too frequently to give each post enough time to fulfill its engagement potential.
3. Recognize Varying Consumption Habits for Different Social Networks: Understand that content on different social networks has varying shelf lives. Consider the difference between content published on Facebook versus Twitter. It makes sense that content on Twitter would have a much shorter shelf-life given the differing nature of the two sites, which makes the case that marketers need to publish more often to Twitter than to Facebook. Don't generalize among social networks.
4. Notice Specific Consumption Habits of Your Audience: Similarly, the target audience of one Facebook Fan page might have completely different consumption habits and needs than the target audience of another Facebook Fan page. Stay tuned to your Facebook fans and how they react to your content, and feel free to run some tests. How do your posts perform when you publish once daily versus twice daily -- or more -- or less? Experiment with your post frequency, and adjust your plan based on your results!
Source: http://blog.hubspot.com/blog/tabid/6307/bid/13398/For-Facebook-Marketing-Being-Fresh-is-Key.aspx#ixzz1Lrhks400