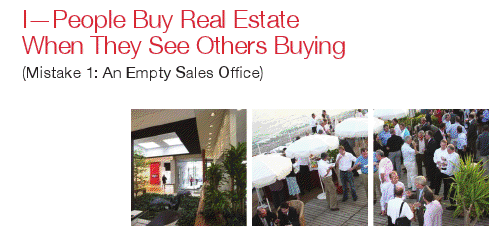 People Buy Real Estate When They See Others Buying. In the first of a series of excerpts from Roman Bodnarchuk's book "How to Sell in 2011," Roman explains the most common mistakes made in business and how to overcome them - in terms you'll understand.
The Scene: Two restaurants sit on adjacent corners. The food and atmospheres of both are of equal quality. Their menus are comparably priced. When passersby see traffic in front of one restaurant and not the other, there must be a reason. The assumption is that the food is of better quality. So, they'll follow the crowd.
What's the Need?
Sales offices function in much the same way. An eye-catching realty office is ineffective if it's vacant. But if it is overflowing with buyers attracted to the same property, this generates an ambience of urgency. When buyers must vie for real estate that fear of loss presses them to purchase.
What's the Solution?
Bring in eligible, competent leads. Organize events that bring interested buyers into the office together. A group of buyers interested in the same real estate will create a sense of urgency - and it's that excited feeling that sells.