Toronto condo developers rely on printed marketing materials to sell their new condo projects, especially during pre-construction when there is nothing tanglible to show a prospect.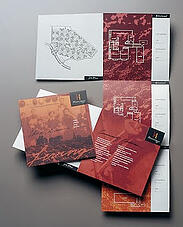 Now, in addition to distributing brochures at meetings, trade shows, and sales offices, you can get more bang from your buck if you market this gorgeous brochureware online by posting them on your site, emailing prospects, or linking from your facebook page. And, the best part of putting your brochures online is that search engines capture all the text in your document, which could potentially help your search engine optimization efforts!
Turning these documents online is a snap and I recommend that your designer prepares a PDF version, which can be read by just about any computer system. PDF documents cannot be manipulated so you don't have to worry about having your marketing assets pirated or changed.
Here are some tips from our marketing partner, HubSpot to turn your PDF into a digital selling machine:
1.) Create your PDF in a text-based program. When you use Microsoft Word or Adobe Acrobat, crawlers can read and index the content.

2.) Follow SEO best practices when writing your content. Optimize your content as you would any other content for your site. Use relevant keywords in your content, H1 and H2 tags in the copy, and make sure your images include alt tags.

3.) Crawlers can read links in a PDF, too. Build in links to relevant pages on your website so readers can get back to your site from the PDF. This is particularly important if your PDF is shared via email or social networks, as those readers may not have been to your site before.

4.) Save the file as a PDF with a relevant file name. For example, my PDF on vegetarian Thanksgiving recipes would be called Vegetarian-Thanksgiving-Recipes.pdf. This will also help users identify the content of the PDF if they share it with others or save it for later use.

5.) Fill out the Document Properties. Open your PDF in Acrobat, and fill in the document properties by going to the Menu and clicking File >>> Properties.
6.) Find popular pages on your site. Once you click OK, publish your PDF to pages on your site that are frequently crawled so it's easier for search engines to find and index the PDF.

~~~~~
N5R is the #1 exclusive condominium marketing & sales agency in Toronto that helps developers successfully market and sell their properties. We've recently helped top Toronto developers like Tridel, Plaza, Empire, Chestnut Hill and Lamb Development uncover qualified leads and sell their properties at a lower cost and in less time using N5R's exclusive digital marketing and lead generation management solution. Download our FREE E-book that outlines easy strategies that sell condos today!