Online marketers have known that the general population usually follows a similar visual path as they visit any web page. How do we know this? Called heat mapping, this technology tracks the eye's movements of a person as they view the contents of the web page. The results are astoundingly homogeneous across the online population and have influenced many web site re-designs, usability testing, and content decisions. Did you know that most of your site visitors follow an "F" pattern as they scroll your web page? You can find out more at HubSpot or Crazy Egg.
The latest large scale eye-tracking study by EyeTrackShop focuses on how peoples' eyes linger on social networking sites like twitter and facebook. The results are similar to general web pages but they have interesting findings that will help you focus your social media efforts for your brand: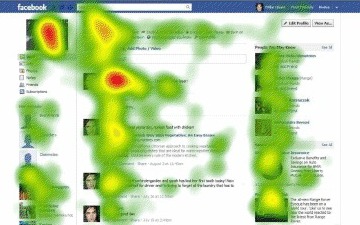 1. Make your "Wall" your focal point. The study found that your facebook Wall is the number 1 place where folks spend their time on your business facebook profile. Ensure you have compelling content to keep them on your profile.
2. Pictures, especially of people, say a thousand words. Social media is a people connection tool so it makes sense that the study found that pictures of people in the profile area were viewed more frequently than brand logos or product images. So, while an illustration or photo of your condo building is very important for viewers, be sure to include photos of people on your social media profiles.
3. Below the fold content is read on social media sites vs. general web pages. We've always heard that any content that the user has to scroll to read, known as below-the-fold, is viewed much less than above-the-fold. This isn't true for social media sites so it's important to keep your content current and engaging well down the page.
Bottom line: Don't treat your business social media profiles like your standard web site homepage because your audience is viewing it a bit differently; but, tending to a few content and image details will go a long way in making your twitter, facebook, or LinkedIn profile eye catching.
~~~
N5R is the #1 exclusive condominium marketing & sales agency in Toronto that helps developers successfully market and sell their properties. We've recently helped top Toronto developers like Tridel, Plaza, Empire, Chestnut Hill Homes and Lamb Development uncover qualified leads and sell their properties at a lower cost and in less time using N5R's exclusive digital marketing and lead generation management solution. Download our FREE E-book that outlines easy strategies that sell condos today!