Condo developers say one of the biggest challenges to selling a condo property during pre-construction is bringing the property to life. Without a shovel yet in the ground, how can your target audience see the building, hear your vision, and learn what makes your condo unique? And there's no better way to break through the clutter of all the condo marketing noise happening in Toronto right now than producing your own online video. Why online video?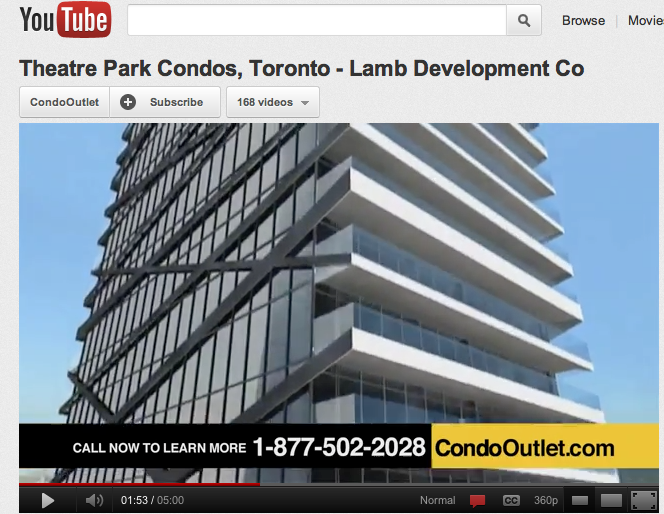 #1: Because condo buyers are visual. They need to feel what it's like to live there - to see what a suite looks like, how it feels to walk through the common areas, to sense entering the building. That's why condo developers spend hundreds of thousands of dollars on illustrations and drawings of the property, model suites, and printed materials. Online video is so much more impactful than print media or brochures and for a fraction of the cost.
#2: Because online video draws the prospect in, especially in the critical "research gathering" stage of a condo buyer/investor buying process. Your prospects may scan your print ad in a big newspaper for at most 3 seconds but online video has the opportunity to engage a condo buyer for as long as 5 minutes! What a powerful medium to connect with your target audience! There are many case studies that prove that online videos work. In the early stages of the buying process, prospects aren't motivated to show up at your sales office/model suite or even email you. They prefer to start their research on their computer and you need to be prepared to grab their attention when your property comes up on their screen.
#3: Because you'll be one of few condo developers doing it! Separating yourself from the pack - instead of using the standard condo sales and marketing tactics will get you noticed. This is not a niche marketing tactic either. According to comScore Video Metrix, Canada is the #1 country when it comes to viewing online video. In fact, 67% of Canada's total population viewed more than 5.1 billion videos online, with the average viewer watching 232 videos in a February 2011 study!
Video is inexpensive and effective!
The best part is that digital video production can be a cheap and cheerful experience if you know how to do it. Here at N5R, we've produced several online videos for our clients, including Tridel, Plaza, Empire Communities and Brad Lamb. We use Web-based video that doesn't require downloading special software, but uses programs that are built into browsing systems. This lets us tell a story using the full media experience with discussions, testimonials and footage that send a powerful selling message to buyers.
Tomorrow, I'll take you through the steps to strategize, produce, and market your online video. In no time, your video can well become your best salesperson, giving your best sales presentation 24 hours a day, 7 days a week.
Email me to find out how easy it is to develop your own online video! And, the same video can be showcased on our TV show, The CondoOutlet TV Show, every Monday/Thursday @ 6:30pm on Ch 21 (Toronto, Rogers). Watch a selection of videos we've done for recent clients including Theatre Park Condos below.