Customizing For All Your Buyers.

Why?
---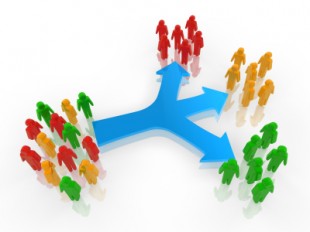 Because rarely will you find a single product that can appeal to all people in the same way – which means you need to find ways to speak to all of your different buyer segments with messages relevant to them.
"Spray and Pray"
is no good.
One of the biggest mistakes developers make is to use one brand statement to try and reach everybody. In the old advertising days, they used to call that tactic "spray and pray" because it involved blindly blanketing everyone with the same message, and hoping and praying it sticks to somebody.
Different buyers have different needs.
Whenever you use one tagline for everybody, you're wrong nine times out of ten. A first-time buyer has different wants, needs and desires than an empty nester or an international buyer. A Canadian buyer has different needs (not to mention different prices) than an American buyer. Realtors (who likely contribute to 70 percent of your sales) don't want a brochure with the same information as the single mother buying her first family home. these diverse groups don't come from the same generation or profession, the same region or country, they don't listen to the same music, don't yearn for the same things for their future – so why create one website and one tagline that tries to speak to them all? It shouldn't be done because it doesn't work.
Three different buyer segments in real estate.
Eventually, you'll realize that you have three different buyers: investors, first-timers and empty nesters. And, if you have three different buyer segments, you should be creating three different messages. The good news is that it's not expensive. Because most of the marketing you will do is digital, you can create a different web experience for the investors, a different web experience for the single first-time buyers, and a different web experience for empty-nesters. Having to build a few landing pages with personalized, unique messaging sounds complicated, but it isn't when you break it down.
More Tips: