"All the Best" May not be the Best!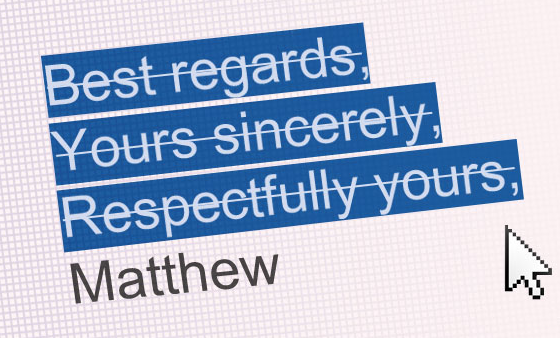 16 Creative Email Sign-Offs
1) "Looking forward to learning more about your [challenge]"
When you're emailing the prospect to schedule an exploratory call, use your sign-off to position yourself as a trusted consultant.
2) "Excited to tackle [challenge] with you"
Use this line in a connect email or after a discovery call to show the prospect you're ready and willing to help.
3) "Thanks for the chance to talk to a fellow [book-lover, rock-climber, Cincinnati native, etc.]"
Once you've established commonality with a prospect, reinforce it in your closing line.
Alternatively, if you're reaching out for the first time, adapt this line to: "Looking forward to the chance to talk to a fellow [book-lover, rock-climber, Cincinnati native, etc.]"
(Not sure what your prospect is into? Check out this easy way to use LinkedIn to find commonalities.)
4) "Always a pleasure catching up with a fellow [Bates alum, hockey fan, Curb Your Enthusiasm fan]"
This line is another great option for strengthening your personal connection.
5) "Hope you're able to fit in some [prospect's hobby] this weekend"
Has the prospect mentioned -- either directly to you, or on social media -- that they're really into a particular pastime? If so, use this sign-off. It's cheerier than a robotic "Sincerely" or "Thank you."
6) "Congratulations again on the [trigger event]"
If you started your email by acknowledging a trigger event, mentioning it again in your sign-off will subconsciously remind the prospect things are changing for their company -- so they might consider changing up their vendors, too.
7) "Hope you get the chance to celebrate [trigger event] this weekend"
This line is a little more familiar, so save it for prospects with whom you've got a strong rapport.
8) "Enjoy the [event your prospect told you about]" or "Let me know how the [event] goes"
Referencing something on your prospect's calendar is a great way to show you've been listening. This sign-off can also be used with a buyer you haven't spoken with before if you saw them mention an event on social media or determined their attendance through another form of pre-connect research.
9) "Oh, by the way -- good luck at the [event]"
Use this variation when the other person is actually participating in the event (speaking, hosting, etc.)
10) "Drop me a line if you've got any questions about [the proposal, improving your employee retention, sourcing new IT freelancers, etc.]"
Hopefully, you uncovered and handled your prospect's objections during yourexploratory meeting. But if they do have doubts or questions, make it clear that you're on hand to answer them.
11) "Have a fantastic Monday (oxymoron?)"
Mondays are universally disliked. With this closing line, you'll make your prospects smile -- and show them there's a real person behind your email. But don't use it with anyone who won't be receptive to the humor.
12) "Hope your week's off to a good start"
Use this cheery closing line when you don't know the prospect too well (and don't want to put them off with something more familiar).
13) "Enjoy your Thursday (we're so close!)"
As the week goes on, everyone starts looking forward to the weekend. (As a bonus, using "we" subconsciously makes the prospect feel like you're on the same team.)
14) "Happy Friday -- hoping you've got some relaxing things planned"
T.G.I.F, right?
15) "Hope your [day] is going swimmingly"
If you want to have a little fun with the generic "Hope your week is going well," use "swimmingly" or another underused adverb instead.
16) "Saw that it'll be [hot, cold] in [prospect's city] -- stay [cool, warm]"
A little personalization goes a long way. This option is ideal when you've just started interacting with a prospect and don't know how receptive they'll be to a more creative sign-off.
Your email should end with a bang, not a whimper. These 16 sign-off options will leave an impression on prospects and help you reinforce the connection.