Promoting To Your Audience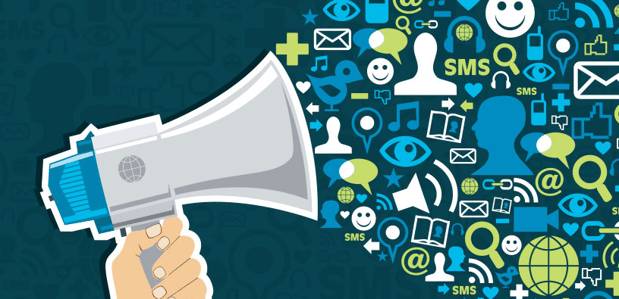 It's one of the most exciting moments in the lifecycle of a marketing campaign: the launch.
If you've been methodical in your planning and executing (with the help of Google Calendar and Google Drive, among other tools), then the launch of your campaign should go smoothly.
In addition to promoting your campaign externally, be sure to promote it internally as well. At HubSpot, we send out a noti cation email (which anyone at the company can sign up to receive) to let coworkers know when a new campaign has launched.
In addition to providing talking points and links to the campaign's landing page, be sure to include a link to that Google Drive folder you created with all of those neatly organized promo images. This will make it easier for your coworkers to share the campaign with their networks.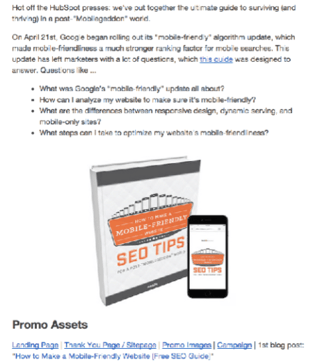 Launching your campaign is an important milestone. But remember, in order to get long-term value out of your e orts, you can't take a one-and-done approach to promotion.
One of the best ways to get sustained value from a marketing campaign? Search engine optimization (SEO): the practice of improving the ranking and visibility of your website's pages in organic (unpaid) search engine results.
If the goal of your campaign is lead generation, your campaign's landing page should be the focus of the majority of your SEO e orts. (You should also spend time optimizing blog posts that link to that landing page.)
Here are some of the most important SEO tasks for your checklist:
• Ensure that your landing page is mobile-optimized (learn more).
• Use target keyword(s) in the page title.
• Keep the URL structure clean. For example: o er.yourwebsite.com/free-marketing-guide = good
o er.yourwebsite.com/id=4673007niner/free-marketing-guide-07-17-15 = bad
• Write a compelling meta description. (Note: this won't a ect rankings, but it can help encourage searchers to click on your website's result, so make it count!)

Thinking for the long term, you should also spend some time scheduling social posts for the weeks and months following the launch. Think of new angles or insights you can highlight each time so you're always sharing something fresh with your audience.
If you're looking to give your campaign a little boost, you always have the option of purchasing search ads around speci c keywords via Google AdWords. This will allow you to show ads to users who use Google to search for keywords related to the main themes of your campaign.
For best results, create alignment between the keywords you bid on, the copy in your ad, and the copy on your landing page (your landing page is where you should be sending people who click on your ads, FYI). If your ad promises something that your landing page fails to deliver, people who click-through will be likely to bounce; and you could end up losing out on potential leads and customers because of it.
Pro tip: make the Google AdWords Keyword Planner your best friend early in the process. The tool will allow you to see and compare the competitiveness (and cost) of purchasing ads around di erent keywords and keyword variations.

And remember: your search ads will only yield results so long as you continue to pay for them. In the long run, investing in SEO and organic audience-building (e.g., through engaging with people on social media) will have a more positive e ect on your campaign.