"Our jobs as marketers are to understand how the customerwants to buy and help them do so." - Bryan Eisenberg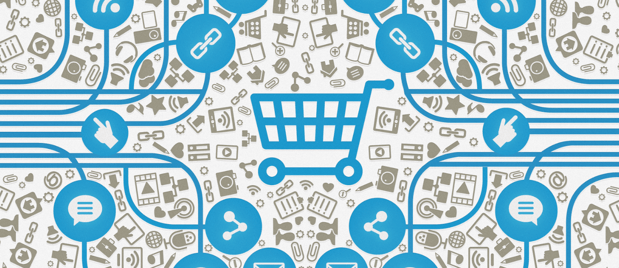 B2B websites lead people down 1 of 2 paths: toward a product, or toward a salesperson.
The experience prospective customers have when they land on your website can be crucial to whether or not they end
up converting. As Slack CEO Stewart Butterfield once commented:
"... even the best slogans, ads, landing pages, PR campaigns, etc., will fall down
if they are not supported by the experience people have when they hit our site, when they sign up for an account, when they first begin using the product and when they
start using it day in, day out."
In analyzing the websites of the 50 fastest-growing B2B companies, we found two distinct paths that companies typically try to send potential
customers down. They either direct people to A) engage with the product
or service in some way, or to B) engage with a salesperson or other company representative to learn more.
62% (31 out of 50) of websites have primary CTAs directing people to the product/service.
38% (19 out of 50) have primary CTAs directing people to talk to Sales.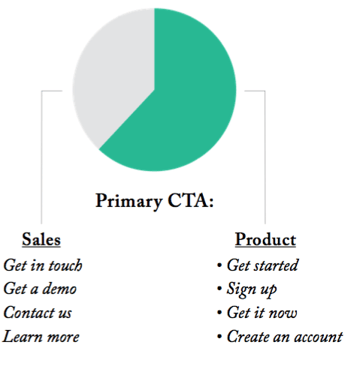 Of course, many of the companies that have product-focused primary CTAs also have secondary CTAs for talking to Sales. And remember the 11 companies with live chat from the previous chapter? All 11 of those websites have product-focused CTAs.
e takeaway: It doesn't have to be one way or the other. Within the 50 fastest-growing B2B companies in the U.S., both tactics are employed. You can encourage people to discover the value of your product through having them experience it for themselves, and you can provide them with an opportunity to talk to a real person if that's what they want.
Regardless of the path you choose to send people down, make sure that their rst experience is (as Slack's CEO recommended) a positive one.
36% (18 out of 50) of the fastest-growing B2B companies o er free trials or freemium versions of their product.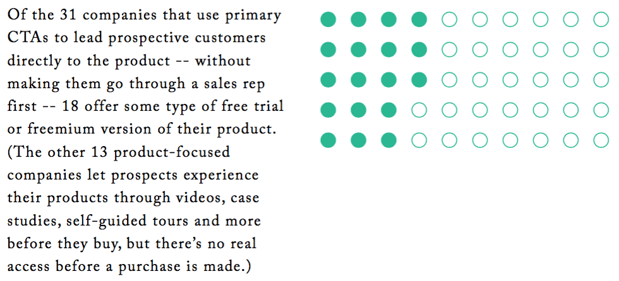 A free trial or freemium version of a product can be a driving force behind a company's growth. It's a model that allows prospective customers to experience rst-hand how a product is going to perform, which reduces the need for canned sales pitches and aggressive tactics.
As Roger Lee of Battery Ventures once wrote:
"Instead of hiring a huge sales force and sending these people out to convince potential customers to buy your product -- the way Oracle, SAP, Microsoft, and even Salesforce.com built empires -- a freemium model is a perpetual motion machine through which your product sells itself."
Of the 18 companies with some free component to their product ...