---
ENGAGING AND ANALYZING
WHEN POSITIONED AS THE HUB OF A BUILDER'S FUNNEL, the web site becomes the most valuable tool for engaging prospects and converting them to leads. This method is extremely accountable in terms of tracking the sources of leads and optimizing the conversion rate.

Just as different prospective buyers who visit your sales office are at different stages of the buying process, prospects who visit your web site are also at different stages of the process. The tools that attract them to your web site (SEO, listing sites, paid search) and initial engagement tools (photo galleries, interactive floor plans) may be the same, but that is where the similarity ends.

Buyers will opt-in and engage on a home builder web site for very different reasons based on where they are in their own decision making process. Different buyers need different types of information, different methods of contact and different forms of lead nurturing after they register.

Because of this, it is essential for builders to be aware of the Sales Funnel and where their prospects are within it. Once this is done, they can select the appropriate tools to build a lasting customer experience for prospective buyers, wherever they are in the process, whether online or on-site.

What things influence potential buyers to risk their anonymity and provide all-important contact information? Let's find out...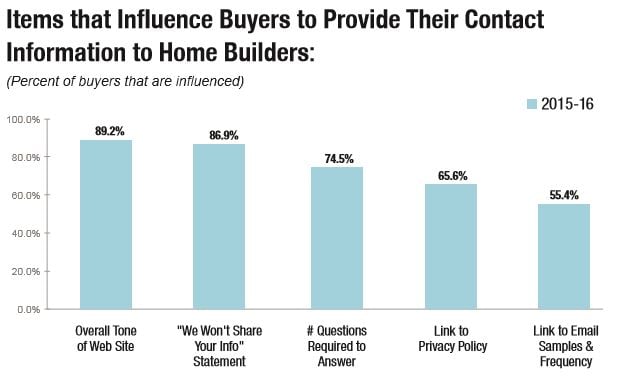 Many of the above items are considered "best practices" for creating forms that capture lead information from a web site visitor, and all are worthy of inclusion to optimize conversion.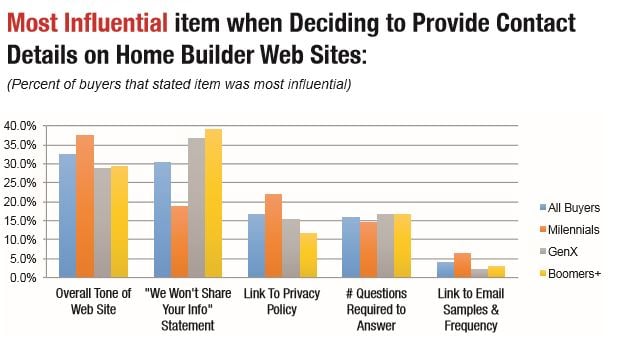 Although most buyers consider the web site tone as highly influential, it's apparent that older buyers place the highest value on knowing that their personal information will not be shared with others.
OVERALL TONE OF WEB SITE
A trustworthy and professional tone is highly influential in converting visitors to leads. User testing with prospects and buyers can reveal many quickfixes to improve the overall tone and trustworthiness.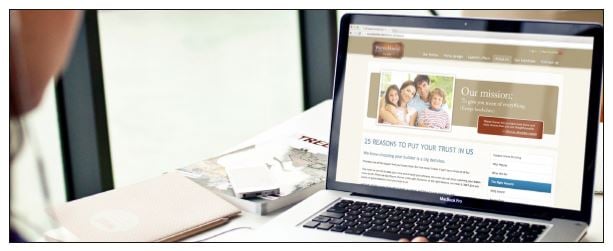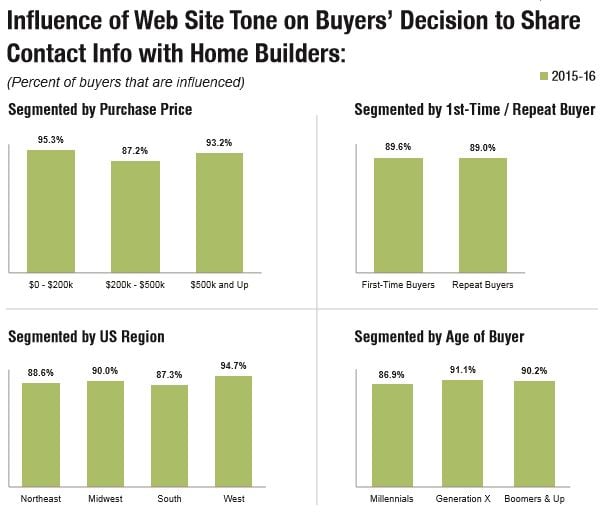 "WE WON'T SHARE..." STATEMENT
"WE WONT SHARE": A builder's commitment to data privacy continues to be very influential in a prospect's decision about whether or not to share their contact information.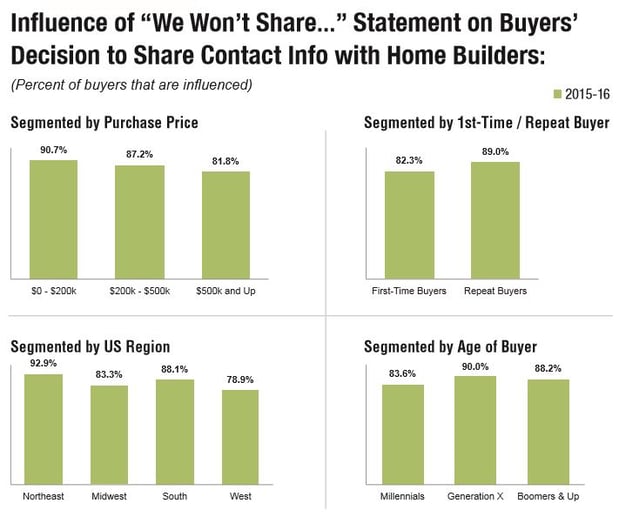 NUMBER OF QUESTIONS REQUIRED ON FORM
Today's web users prefer the path of least resistance. Creating easy-to-read, easy-to-navigate forms that are designed to capture minimal information reduces friction and increases leads.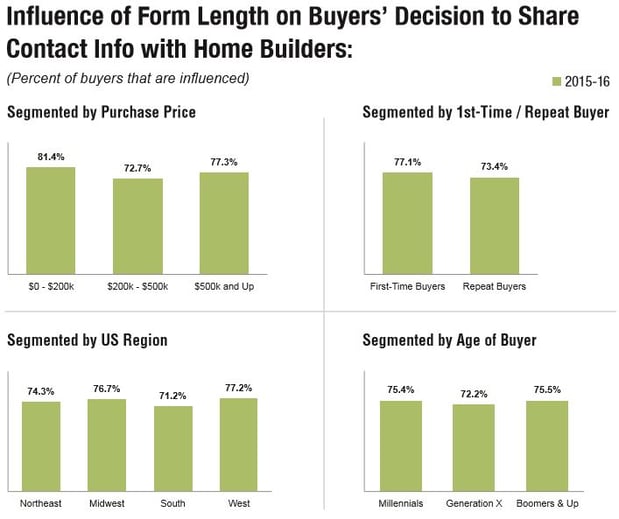 LINK TO PRIVACY POLICY

LINK TO PRIVACY POLICY: The influence of a prominently placed privacy policy link gives prospects peace-of-mind that a builder is committed to their privacy.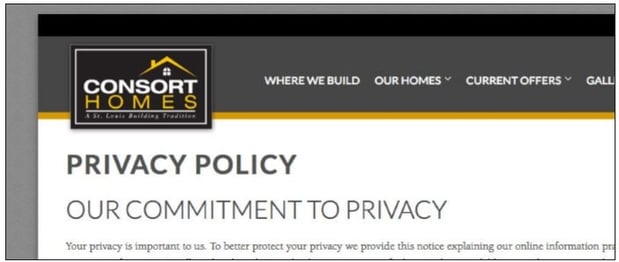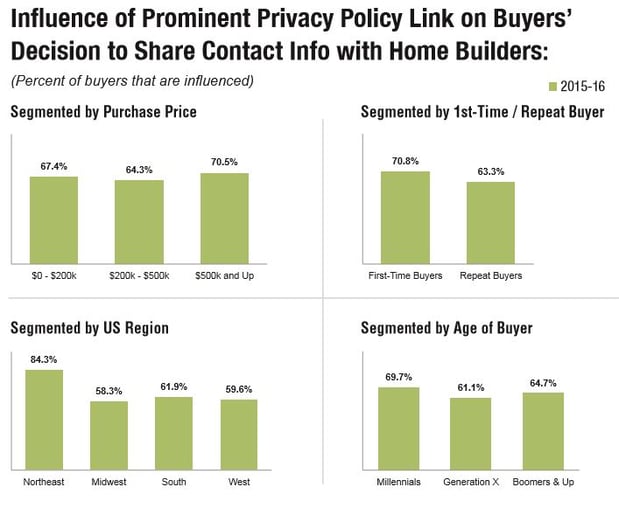 LINK TO EMAIL SAMPLES AND FREQUENCY

Links to email samples and disclosures about frequency are an easy way to set proper expectations with potential home buyers. Engaging and nurturing prospects is dependent upon their acceptance of how they will be contacted and how frequently that is likely to occur.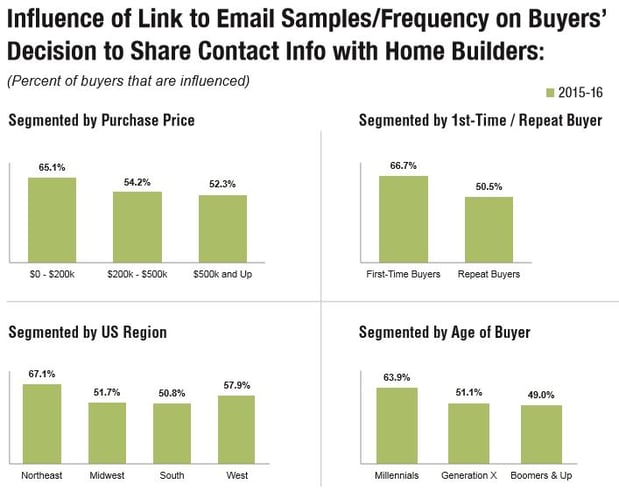 Leran more about our company and what we do: