---
REASONS TO REGISTER ONLINE
Beyond the seven trust building tools that represent best practice standards for home builder web sites, buyers also indicated that the ability to immediately access high value information was very in uential in determining whether or not to register on a home builder web site.
These include:
Email updates about current promotions or offers

Email updates about current pricing and availability

Immediate access to a high-resolution, interactive brochure

Follow up from a Sales Agent with more information

Email invitations to exclusive VIP events
Overwhelmingly, buyers who participated in our survey (in all categories) demonstrated a willingness to register online in exchange for high quality information that is relevant to the new home research they are conducting.
e data also suggests that strategies for converting web site visitors to web site leads may vary from one new home commu- nity to the next, even those o ered by the same builder, based on product type, price point and audience.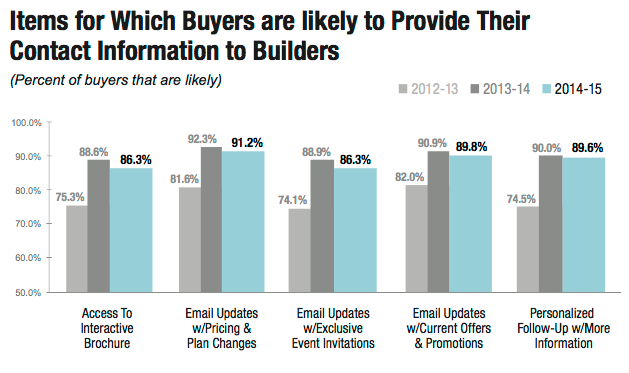 This year's report recorded an average of 88.6% in uence rating for all value-added content that builders offer in exchange for home buyer contact information. Year over year, the ratings in this category remain very high.
EMAIL UPDATES ABOUT CURRENT OFFERS OR PROMOTIONS
Only 9.8% of homebuyers are unlikely to provide their contact information to receive email updates about a builder's current offers and promotions. This trend is consistent with today's consumer preference to have access to the most current, up-to-date information.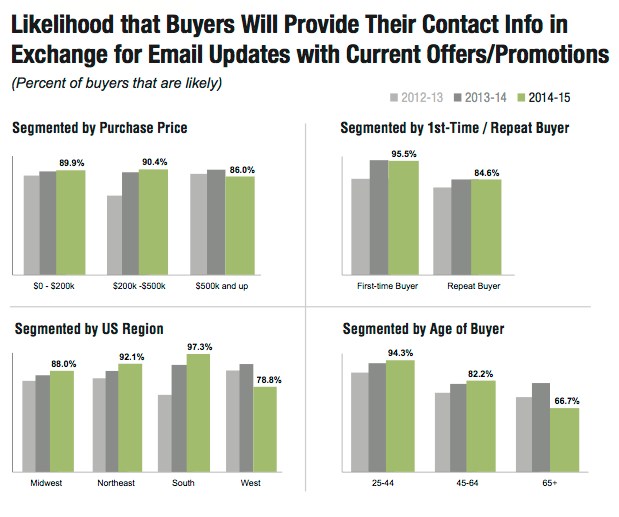 EMAIL UPDATES ABOUT CURRENT PRICING OR AVAILABILITY
94.3% of home buyers in the 25-44 age group said they were likely to provide their contact information for builder updates about pricing and plans, up from last year. All findings confim that offering valuable content is an effective method for obtaining contact information from prospective buyers.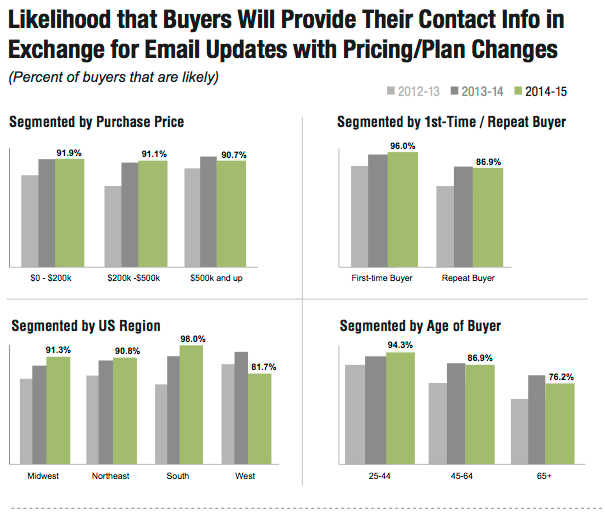 ACCESS TO INTERACTIVE BROCHURE
This year, 86% or more of buyers in all price point categories indicated that they were likely to sign up to receive an interactive brochure from a builder. 92.5% of rst time homebuyers said they would opt-in to receive this media.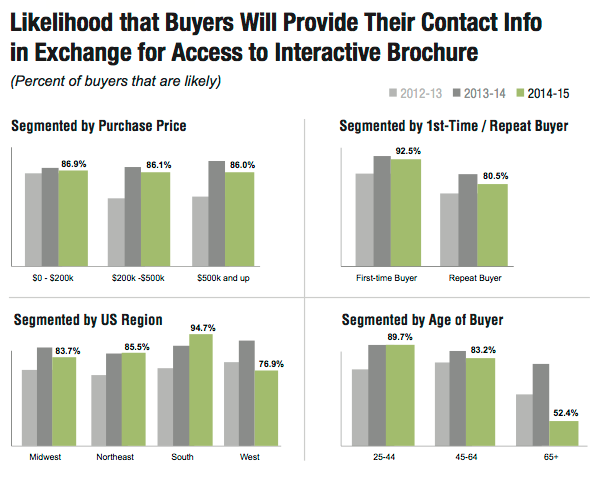 PERSONALIZED FOLLOW UP FROM A SALES AGENT WITH MORE INFORMATION
Personalized follow up was most valued by buyers in the 25-44 age group (94% in uence rating) and least in uential among those 65+ (66.7%). Geographically, 95.3% of buyers in the South rated personalized follow up as in uential compared with 92.1% in the Northeast, 91.3% for Midwestern buyers and 77.9% for buyers in the West.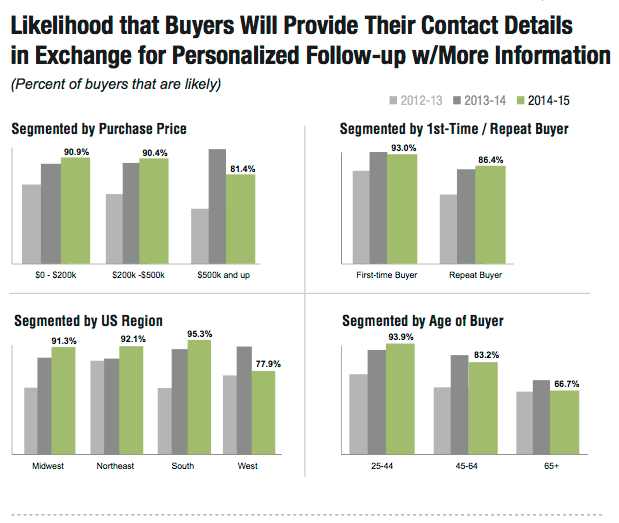 EMAIL INVITATIONS TO EXCLUSIVE EVENTS
For 2015, 93.5% of rst time home buyers indicated they would be likely to provide their contact information for exclusive invitations via email, compared with 79.6% of repeat home buyers.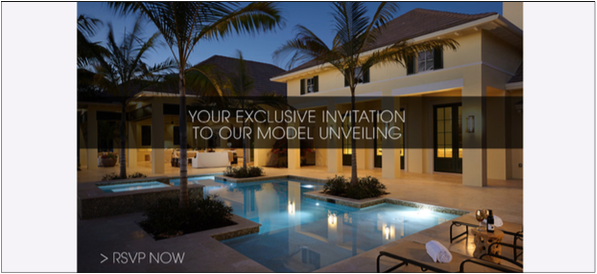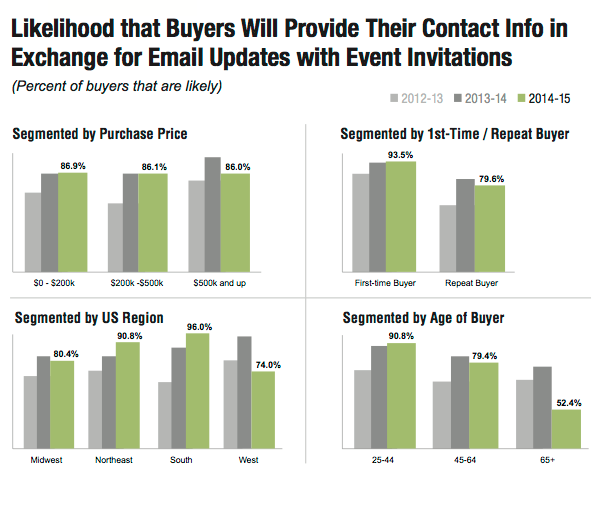 FREQUENCY OF EMAIL UPDATES
There was a marked increase from the previous year in desired email frequency across email updates from a
the majority of categories. Twice-per-month frequency increased overall from 13% to 21% and weekly email prefpereonscepiencrteivaseebd ufroilmde2r2?% to 29% year-over-year.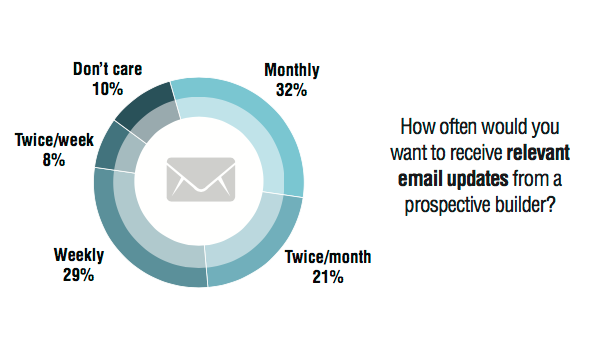 Leran more about our company and what we do: