From virtual reality to experience-improvement apps, home builders are looking to 2017 as a year of digital transformation.
What does the future of digital look like for home builders? In a field not always known for being on the leading edge of technology, it's exciting to see the construction industry now embracing the these digital trends for home builders. From virtual reality to digital marketing trends to experience-improvement apps, home builders have accepted the challenge and are looking to 2017 as a year of digital transformation.
What we see as the most important digital trends for home builders in 2017:
1) Virtual Reality and Augmented Reality are no longer novelties.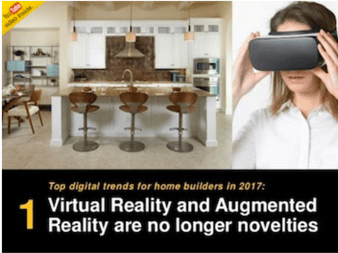 If there's one digital trend for home builders that seems to be the hottest, this is it. Google Cardboard and Google's Pixel phone have brought virtual reality to the masses. Companies like Builders Digital Experience (BDX) have made it accessible and practical for most builders. Studies show buyers are wil
ling to strap on a pair of goggles to enhance their experience both at home, and at in a sales center.
2) Millennials shake up the buying process and demand a better experience.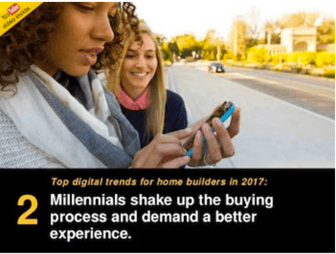 In a previous article we explained how Millennials are fast becoming a catalyst for change in the home building industry. As they become buyers, they won't settle for the status quo when it comes to the sales experience. As a digital generation with unlimited information in their pocket, they expect a different customer experience. The result: builders will be forced to reexamine the current home buying experience, which has remained relatively unchanged for many years.
3) Responsive web design shifts to mobile-first.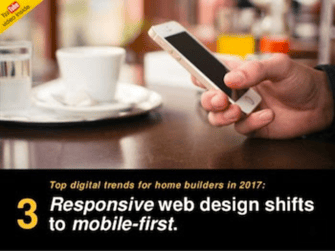 Most builders have realized the importance of mobile usage on their web sites. As mobile/tablet site visitors outpace desktop, it's no longer a matter of just having a web site that works on mobile. It has to be designed for mobile. Just as we've seen in telecomm, banking and other industries – expect builder web sites to feature bigger buttons, larger text and hamburger menus as they move toward designing the mobile experience first and desktop second.
4) Marketing Automation gains traction.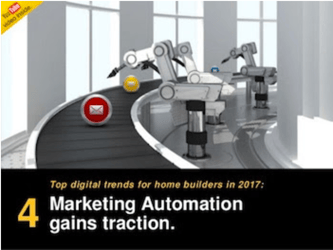 No longer just a trendy buzzword, top builders are getting serious about trigger-based emails, and slowly finding their way into marketing automation. It requires building customized workflows for different users at different touch points in the process, but the planning is worth it when users get a customized experience without the need for salesperson action. As cost-effective software solutions have entered the market, cost is no longer a barrier for most builders. Read more about marketing automation for home builders here.
5) YouTube replaces broadcast TV budgets (for good).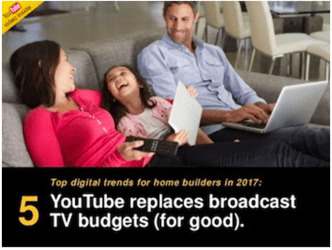 We've been talking about it for ages: the death of television. Well…it's not that extreme. We still have television. And commercials. But most builders no longer see the value in broadcast media placement. Instead, they're dedicating significant production budgets to creating high-quality video. And then slating them for digital distribution such as YouTube pre-roll, set-top advertising (think Roku, AppleTV or xBox), or social media outlets.
6) Personalization goes beyond email.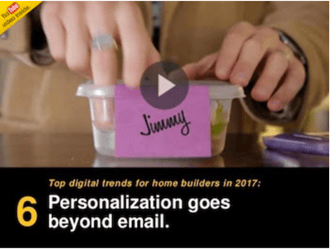 Most people are familiar with the concept of personalized emails, but newly embraced technologies like personalized video, social media advertising and display retargeting are fast becoming staples in the builder's marketing arsenal.
Click to watch our video to learn about New Tranding in 2017.