Continue our topic:
7) Experience apps guide buyers through the building process.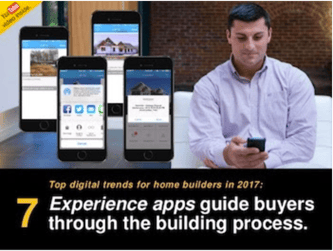 In the past, most builder apps have been designed more for the builder than the buyer. Now, builders are seeing the potential of apps as a way to guide buyers (after contract) through the process of construction, which can be a confusing ordeal with multiple points of contact and complicated schedules. Not only can these apps improve communication, but they lead to improved satisfaction and trust. And they don't have to stop at delivery – warranty requests can even be handled directly through the app.
8) Paid placement becomes the go-to for search and social.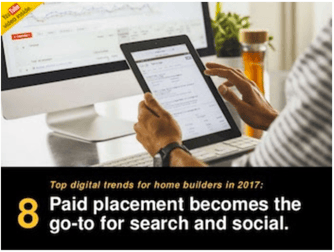 Organic SEO is not easy for home builders to dominate, considering the competition (resale), location-based nature, and ever-changing search algorithms. As a result, many builders are turning to pay-per-click (PPC) advertising where it's much easier to quantify the ROI. They can also turn it on and off as communities need to ramp up/close out neighborhoods. Likewise, social media paid placement is proving to be an invaluable investment, now that they've dialed in the targeting and monetization of the network.
9) Smart Homes get user-friendly.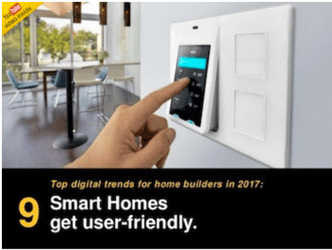 One area where the construction industry has been investing R&D dollars is in smart home technologies. Over the past few years it's been fragmented at best, requiring multiple (clunky) user interfaces to control different features in the home. What's been missing is a ubiquitous central home app that's easy to use and works with all devices. Now that Amazon Echo, Google Home, and the Apple Home app have become mainstream, the technologies have begun playing nicely together, for the benefit of the user.
10) CG renderings blend with drone footage.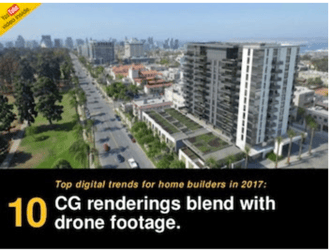 Over the last few years, the quality of computer-generated (CG) renderings of homes and communities has blurred the line between virtual and reality. And with drone aerial footage more accessible than ever, companies like Focus360 are combining the 2 in a way that provides a real sense of location for projects still on the boards. Expect to see a lot more of these seamless "flyovers" from builders and developers in 2017. See an example here.
11) 3D interactive tours let users control the experience.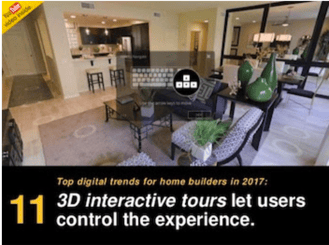 Gone are the days of installing a quicktime plugin to get a fisheye view from a single point in a room (remember iPix?). Now, builders have access to technology that gives prospects a true virtual tour of a home or community. Users can seamlessly "walk" from room to room (and floor-to-floor) on any device simply by clicking-and-dragging or using arrows on the keyboard. It requires special equipment to shoot, but this company will come shoot and package the UG3D tour at a price affordable to even the smallest of home builders.
12) Guided video tours get a lot more interactive.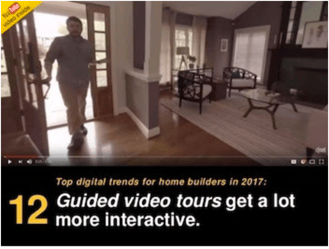 If you haven't heard of Google's 360 Video yet, you will. With this technology, builders can shoot a video which not only guides the user on a video tour, but allows them to pan around the video for a 360 view of each scene as it plays. It adds an entirely new dimension to video. It also requires special equipment, and can be costly since the technology is so new, but the potential it offers home builders is pretty exciting.
13) User-generated content gets another look.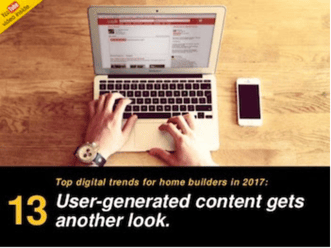 Ok, we have to admit, this one is not as much a bold prediction as it is an observation, but it's a very promising one. As builders warm up to the idea of encouraging users to post real reviews of their home buying and building experience (substantial, authentic reviews like Amazon's or Yelp's), they will see the value with respect to referrals and improved Customer Lifetime value (CLV). It's a long-term play, but it's going to be critical to sight-unseen home buying. It's the inherent power of Zero Moment of Truth – more about that here.