How To Create Lovable Marketing Campaigns
Are your leads not converting?

Do you need to audit your inbound marketing but aren't sure how?

Or maybe you could use the help of a trusted Canadian digital agency with over 14 years experience to make the transition.
Toronto-based marketing agency N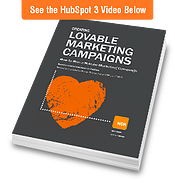 5R.com has released an exclusive 2016 edition of the popular eBook Creating Lovable Marketing Campaigns.
With this eBook, you'll learn tips on getting leads to love your marketing by using killer online marketing features such as:
Analytics - built for marketers, this tool makes it easy to calculate the ROI of every element in your online marketing campaign
Social Segmentation – track the social media, website and email activity of your contacts, so you can personalize your interactions with them on a more meaningful level
Smart CTAs – dynamic calls-to-action change automatically based on the lead's relationship with your company, enabling you to effectively target your offers
We'll even throw in an extra tip: download our eBook from N5R.com, and clue in on what your campaign is missing before your competitors do.
Register Now for your Free eBook.
Watch the Inbound Marketing Video