It is that giant elephant in the room that nobody wants to talk about - how bad do you want a place in cottage country to call your own? During the summer months people who own properties there never stop going on about it and those who don't, well they just dream of Lake Muskoka and all it has to offer. Which side are you on?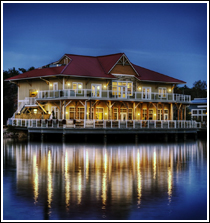 The time has come for you to join that club and fulfil that dream of owning a piece of lakefront real estate. Situated only 90 minutes from Toronto, Gravenhurst, the gateway to Muskoka gives you that coveted 'Muskoka experience' without the hassle. This is your opportunity to actually participate in 'cottage time' and soak up that lifestyle.
Does the idea of cleaning and maintenance fees put you off buying a cottage simply because of the hassle factor? What if there was an option to purchase a condo in a condo hotel which not only takes the maintenance weight off your shoulders' but also offers you the choice to show up at Muskoka Wharf and begin your vacation the minute you get there - the way every vacation should be!
What does condo ownership entail? Basically what it means is that you are buying a suite at a hotel, therefore your room is clean when you get there, the hotel staff are your staff and your breakfast is made when you wake in the mornings - doesn't this sound like paradise! Owning a condo at Muskoka Wharf also gives you the added benefit of building up some extra income during the down time when your not using the property, a perfect way to build up some more finances. These condos in this desirable cottage destination are selling like hotcakes so our advice? Get in there stat.
Don't let yourself miss out on this luxurious cottage experience in Gravenhurst on the southeastern bay of Lake Muskoka.
Take a boat ride on North America's famous steam ship the RMS Segwun and breath it all in. Cottage time is here.