Tomorrow at 9:00 AM is Gravenhurst's Famer's Market
Come Savour the Flavour of Muskoka. Established in 1992 in the heart of Ontario's scenic cottage country, the Gravenhurst Farmers' Market has become one of the region's most popular attractions.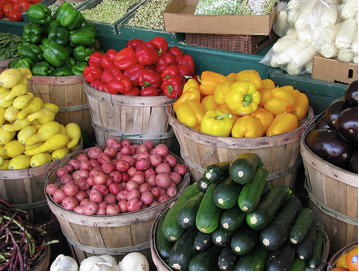 As many as 80,000 local residents, cottagers, and tourists frequent the market annually to partake in a broad array of fresh Ontario produce, arts and crafts, and special events. More, visitors can enhance their market experience by exploring Gravenhurst's many excellent shops and restaurants, or enjoying a swim and relaxing picnic at one of the community's lakeside parks.
And following the market visitors can cruise Muskoka's world-famous lakes aboard the Royal Mail Ship Segwun, North America's only remaining fully-operational steamship. All together, a visit to the Gravenhurst Farmers' Market can blossom into a full-day adventure your entire family is sure to enjoy.

September Schedule
Wednesday, Sep 07, 2011 9:00am to 2:00pm
Wednesday, Sep 14, 2011 9:00am to 2:00pm
Wednesday, Sep 21, 2011 9:00am to 2:00pm
Wednesday, Sep 28, 2011 9:00am to 2:00pm


Contact Information & Location
Website:www.gravenhurstfarmersmarket.com
Email:andersonproduce@yahoo.ca
Organizer:Gravenhurst Farmer's Market
Contact:Barry Anderson
Phone:705-327 8107
Address:Gravenhurst, Ontario