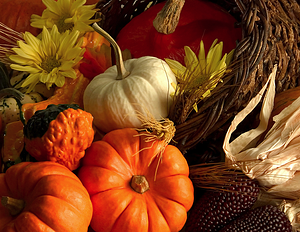 There is no better way to discover the unmatched Fall colours of Muskoka then with a cruise aboard the R.M.S. Segwun or Wenonah II. Whether you choose a lunch or sightseeing cruise, your voyage will include the unparalleled scenery and grand summer homes of Lake Muskoka. Daily cruises are available departing Gravenhurst through until October 10th. Additionally, Wenonah II will be offering cruises departing Port Carling and showcasing Lake Rosseau from October 11th through 16th.
Why not try a Thanksgiving Day Cruise!?
A few tickets still remain for the Segwun's annual Thanksgiving Day Cruise sailing on Monday October 10th from 10am to 7pm. Featuring the fabulous Fall colours of Lakes Muskoka & Rosseau and a traditional Thanksgiving lunch served at Clevelands House Resort, this cruise is truly a magical Muskoka experience.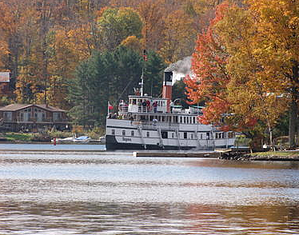 Before or after your cruise, be sure to visit Muskoka Boat & Heritage Centre. This year's feature exhibit,The Muskoka Bay Story, invited guests to step back in time. Get your ticket at the recreated Wharf Station ticket office and travel back in time where you will experience the discovery and development of Muskoka Bay through the eyes of the earliest settlers, recreationists and entrepreneurs. Meet the McCabe's, "Mickey" and "Mother" and find out why she can lay claim to the title "first promoter of Muskoka tourism" and appreciate the impact of the arrival of train service at the Muskoka Wharf. Enjoy a model railway display arriving at a scale model Wharf Station and more ...
CBC FILMING ABOARD THE SEGWUN!
The steamship docks were abuzz with the CBC filming of "Sunshine Sketches of a Small Town" aboard the R.M.S. Segwun this past week. In celebration of CBC Television's 75th anniversary, Segwun will take on the role of the steamboat "Mariposa Belle". The Segwun will be captured on film with both day and night time scenes over the four day window.
For cruise reservations and information, please contact Muskoka Steamships at (705) 687-6667.